Perched above Kobe city and boasting over 75,000 herbs and blooming flowers, Nunobiki Herb Gardens is literally and figuratively a cut above the rest. I've visited gardens across the entire length of Japan, and none of them have impressed me as much as Nunobiki did. Aside from its 12 sprawling gardens, visitors can tour the fragrance and spice museums, witness artistic displays in the herbal house, laze in the herbal foot bath, pilgrimage to the lover's bell and tuck into a meal at a German-castle inspired plaza. It's the perfect setting for a romantic day in Kobe. Even better, the gardens are in bloom all year round. Check out their website for your season's features.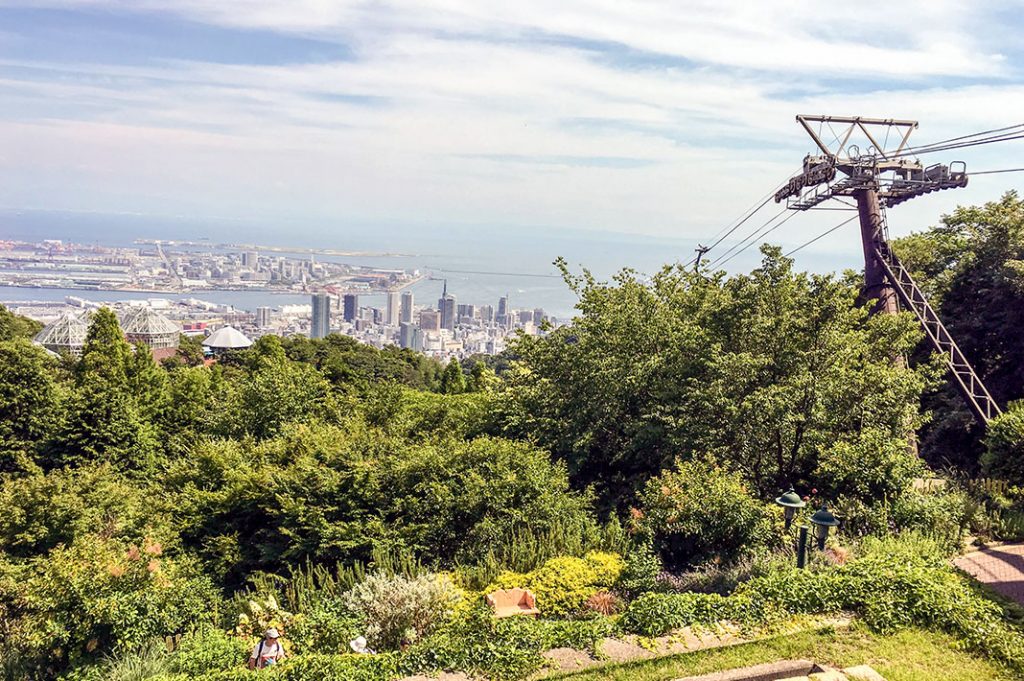 The Ascent
Getting there is a treat. The gardens are an easy 10-mintue ropeway ride from Shin-Kobe Station, which also serves as Kobe's shinkansen (high-speed bullet train) station. The ascent brings you past Nunobiki waterfall (43-feet tall!) and above the gardens. Look behind, and you'll catch some superb Kobe views. The ropeway docks at two access points to the gardens: one lower and one upper. Being in the mountains and all, the gardens are on a slope. And I'd recommend getting off at the upper station: it's much nicer to spend a day gently descending than climbing. You can also hike up from Shin-kobe station, but be warned that the path is pretty steep. In 20 minutes, you'll reach the waterfall, and in another 20 you'll reach the lower ropeway station. Generally, the gardens close at 5:00 p.m. But in the summer and autumn, the view plaza (but not the gardens) is kept open until 8:30 p.m.; it's a popular spot for locals.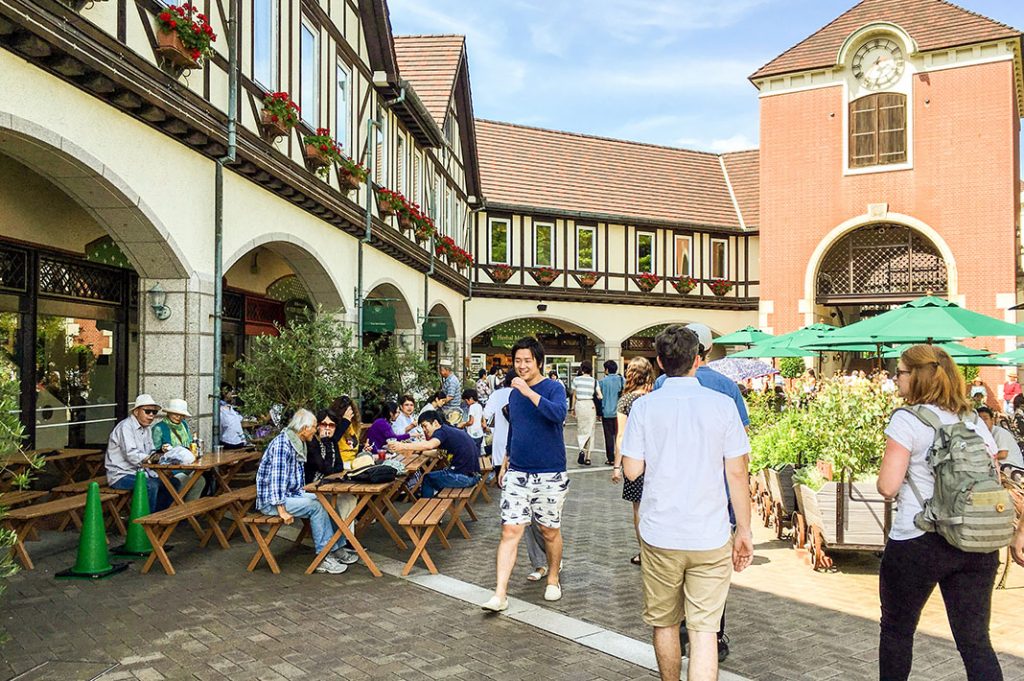 The View Plaza and Welcome Garden
Now step off the ropeway and into Germany! Just kidding—the view plaza is inspired by Wartburg Castle, an ancient German castle, and feels just like walking into the nation's historic countryside. The welcome garden wraps around the plaza, and as you explore it you'll find hammocks (!) and free play equipment for the kids. Kick back and take in the sweeping views of Kobe (and on a clear day Osaka and Kyoto, too). If you're visiting in the summer or autumn, hang around the plaza after sunset to catch some night-time illuminations.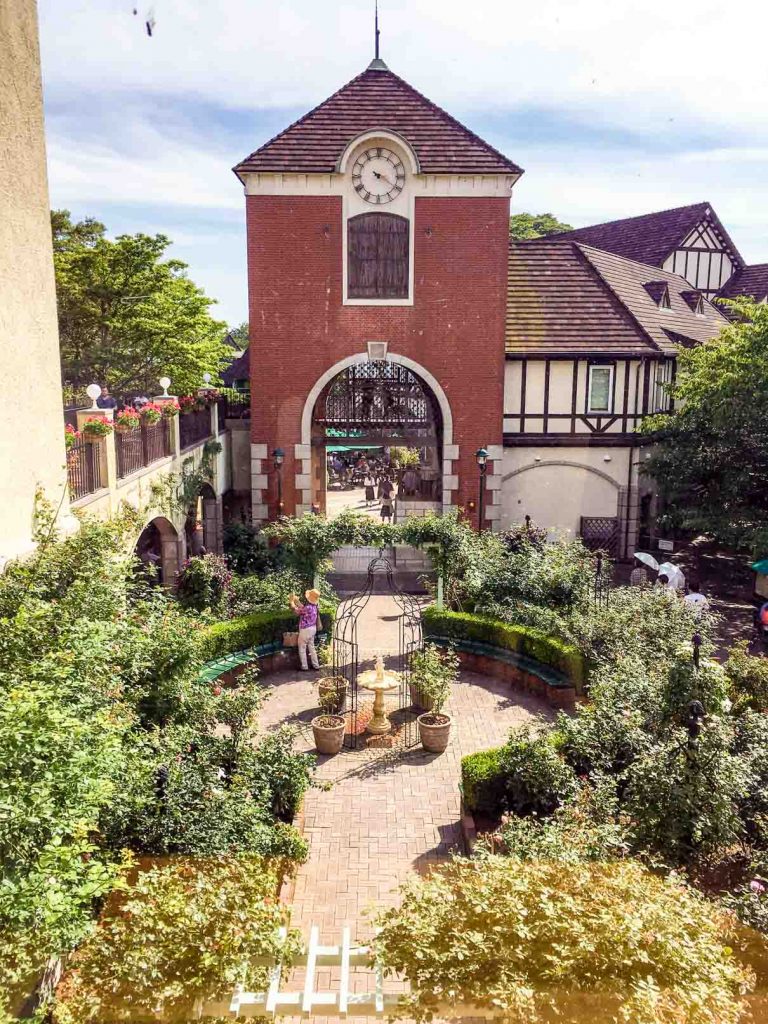 Garden Eats
The menu is inspired by the gardens, and incorporates its harvest of herbs, veggies, and edible flowers. It's definitely worth stopping for a meal or a bite to eat at the plaza's restaurant or cafe. And if the weather's nice, outdoor stalls will pop up in the courtyard. The rose petal tea that I ordered was as refreshing as it was pretty. Japanese and Western options are available, as well as a children's menu.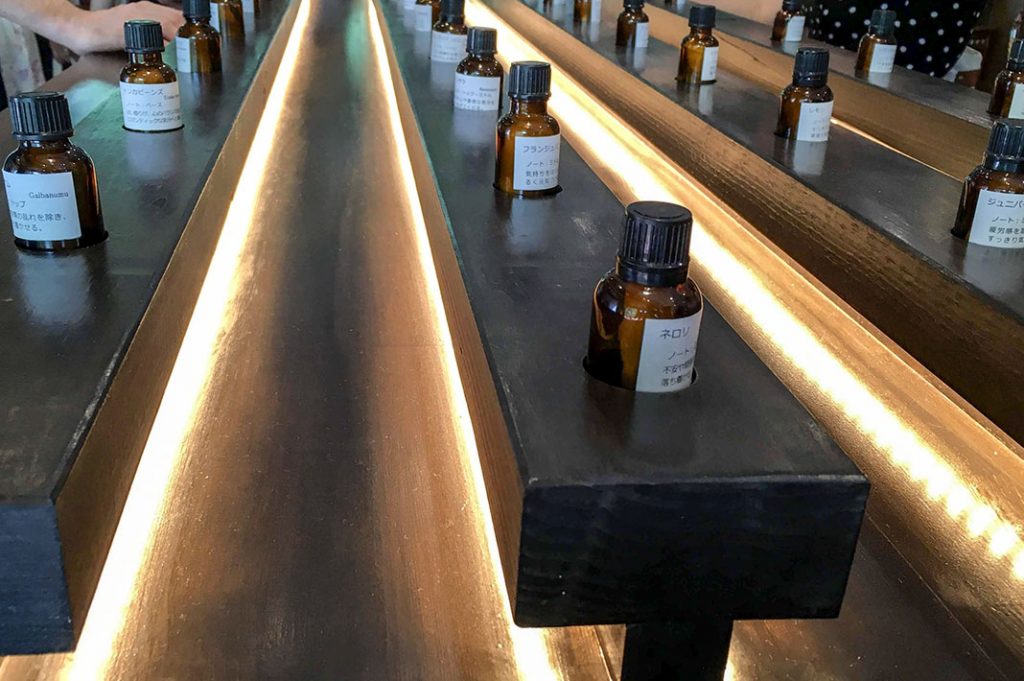 The Fragrance and Spice Museums
If you're a lover of perfume, essential oils, or simply nice-smelling things, the fragrance museum might be your new happy place. Poke through displays of aroma-extracting equipment and antique perfume bottles, and then sniff your heart out at the essential oil display, which stocks over 80 scents. Afterward, take a stroll through the dreamy spice museum. Here, you can try out a spice crusher and learn more about their collection.
Art at the Herbal House
While you'll at it, why not visit the herbal house? Scenes from daily life, like the kitchen or living room, are artistically elevated with displays of dried flowers and herbs. It's it a great spot for inspiration and unique photos.
Lover's Bell
Whether you've got a special someone or are taking some time to yourself, the lover's bell is a sweet spot to visit. Make your wishes here or ring the bell for some romantic good luck.
Herbal Footbath
Whew! After all that walking, treat your feet to a restorative soak. The herbal foot bath, located close to the glasshouse, is a must.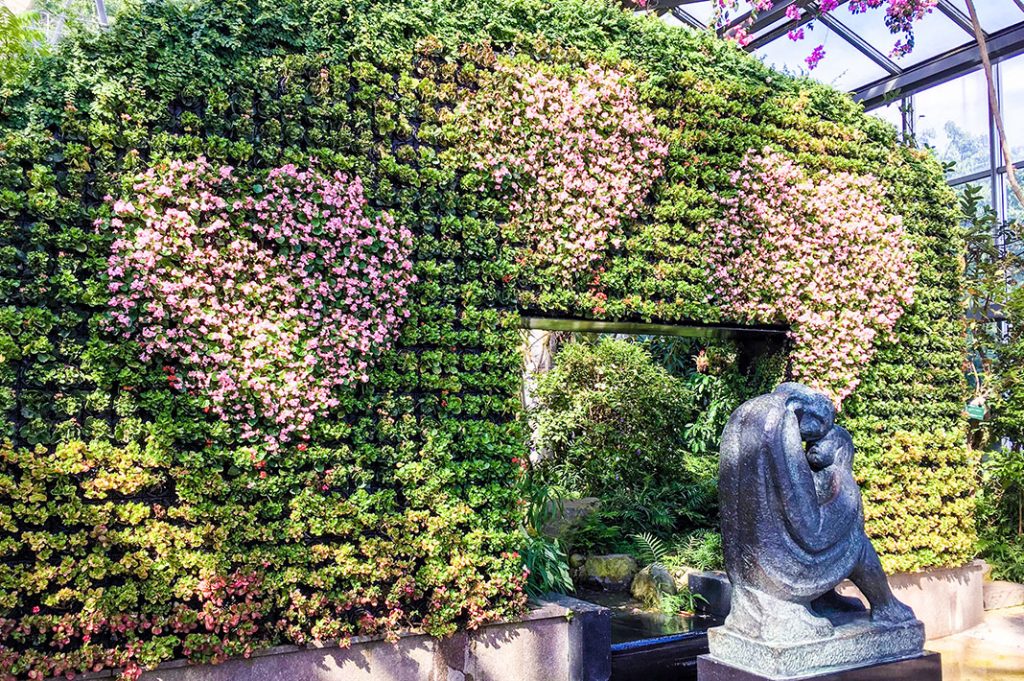 Gardens
And after all of the above, there's still a wealth of gardens to stroll through. In no particular order, there's the rose symphony garden, which houses over 60 varieties of roses. The lavender garden hosts a picking event every June. Meanwhile, the stunning glasshouse is a tropical oasis with statues and water features. And the oriental garden display Asian plants traditionally used in medicine, food, and crafting. You'll find over 100 varieties of herbs at the herb museum garden. And the kitchen garden stocks common vegetables and herbs that you might already keep in your own garden.
Meanwhile, the fragrant garden pays homage to the European countryside. The four seasons garden is, fittingly, designed to be in full bloom each season. And the lily garden smells wonderful. Kaze no Oka garden has superb views of the surrounding area. Finally, you can meet some friendly tree frogs in the waterfall patio gardens.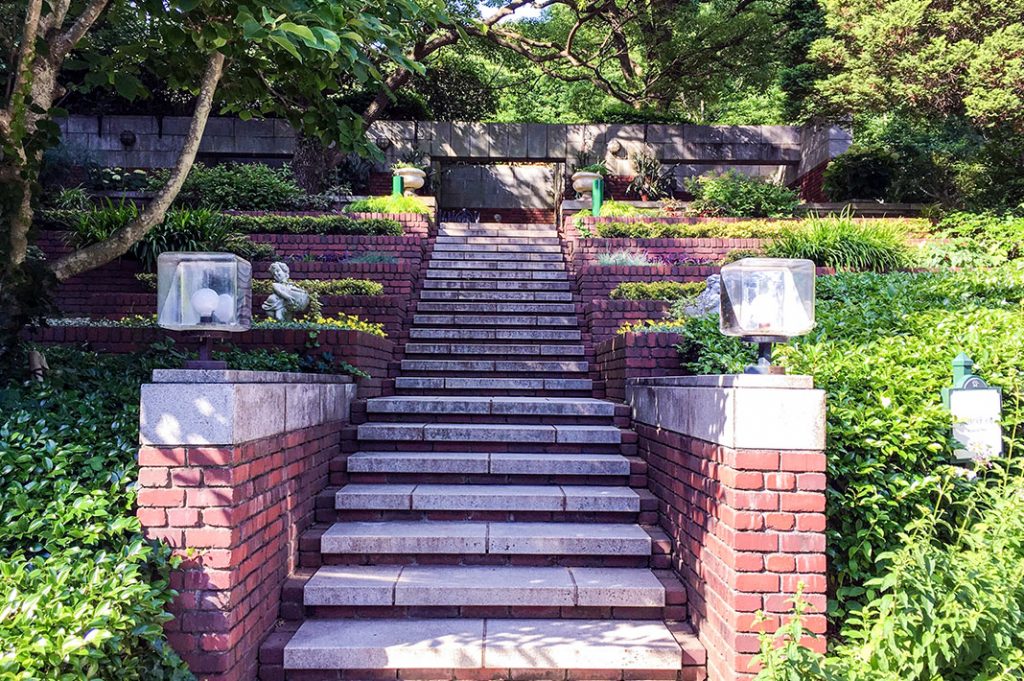 Shopping
If you'd like to take a piece of the day home with you, stop by the garden's shops. There's a small outpost at the view plaza, and a larger shop at the lower ropeway terminal. They offer a host of herbal teas, essential oils, soaps, hand creams, fragrance sprays, and other sundries.
Name: Nunobiki Herb Garden, Kobe
Address: 1-4-3 Kitanocho, Chuo Ward, Kobe, Hyogo
Open: Every day 10am—5pm
URL: http://www.kobeherb.com/en/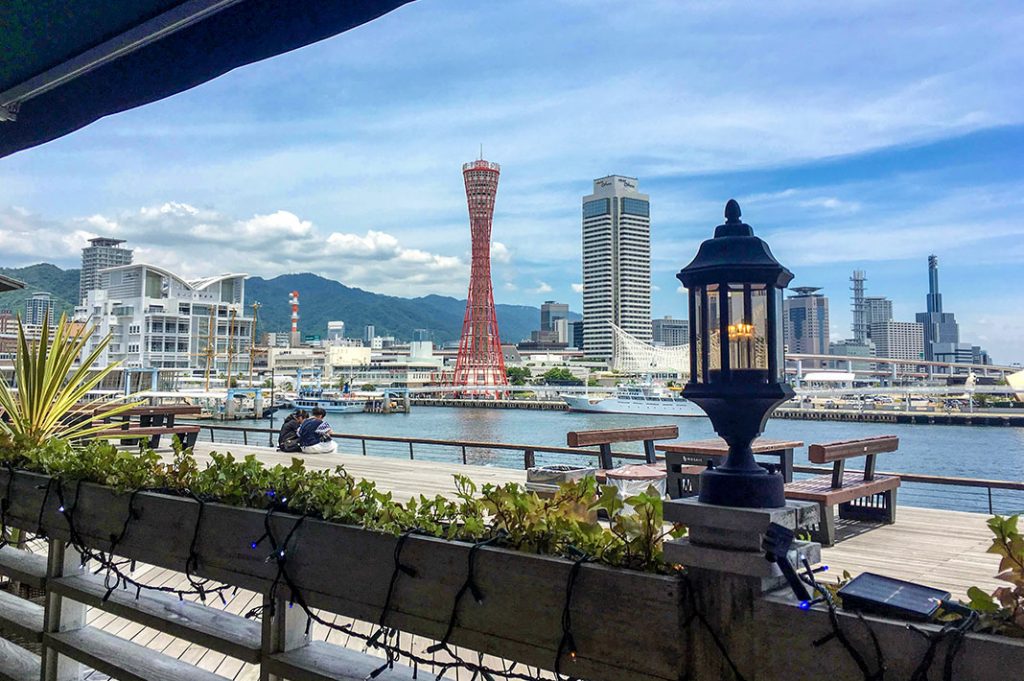 Post by Japan Journeys.