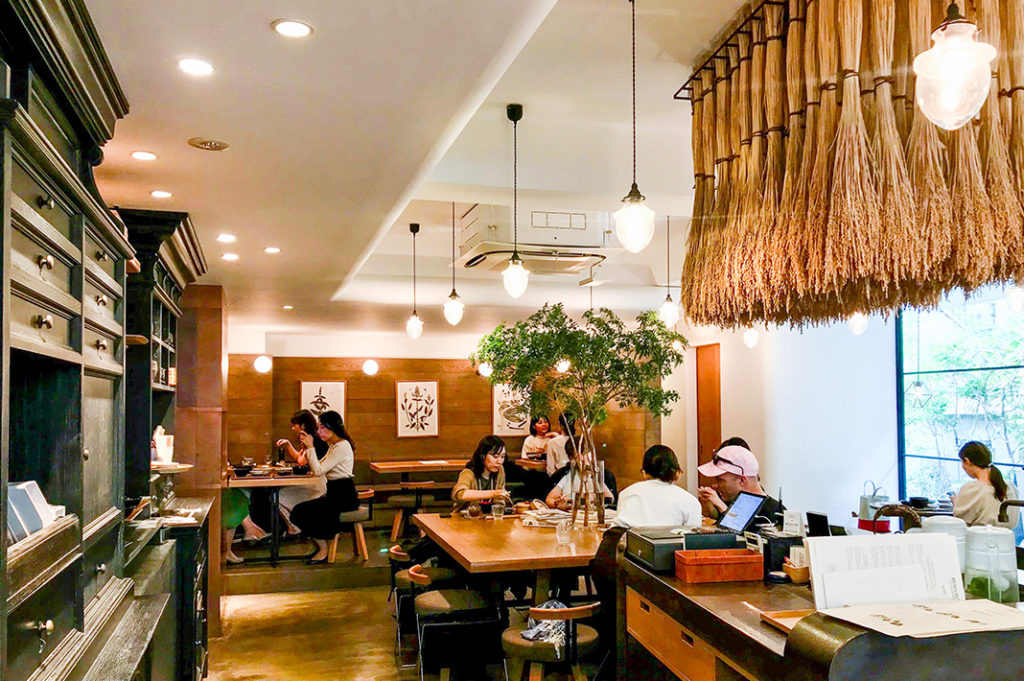 Vegan-friendly meals used to be difficult to find in Tokyo. Fortunately, that's not the case anymore. Japan's largest city now has many restaurants catering to plant-based eaters. If you happen to be around the Omotesando area, a good place to head to is Brown Rice by Neal's Yard.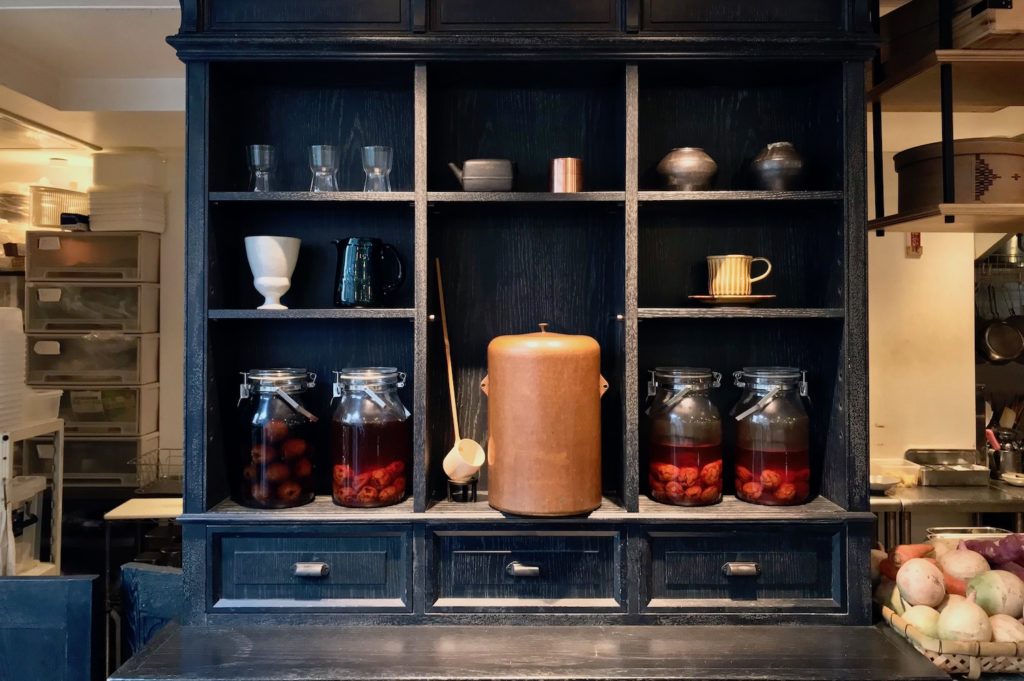 Run by the eponymous British skincare company, Brown Rice Canteen serves organic, vegan meals to the health-conscious set. That doesn't mean salads and superfoods though. There's a real emphasis on high-quality ingredients to turn out meals that remain faithful to the principles of Japanese cooking.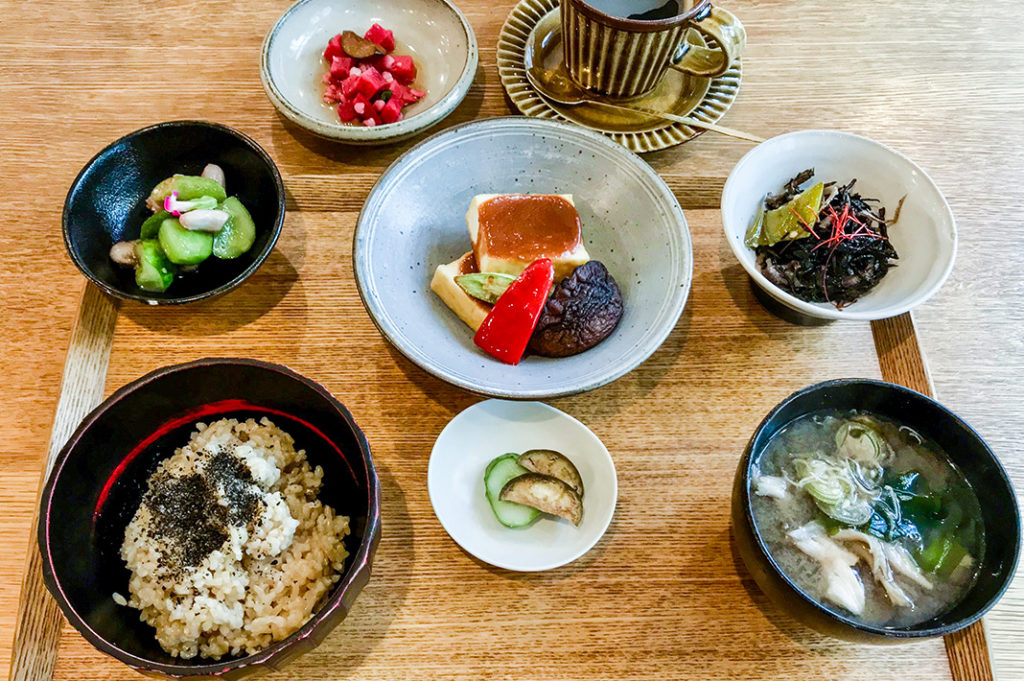 Vegan set lunches at Brown Rice Canteen
There are a number of dishes on the vegetable-heavy menu to choose from. The steamed vegetable set at the neighbouring table looked utterly enticing, as did the vegetable curry. But if you want to try what's only available that day, have the daily lunch set. Don't forget to include a drink alongside: it's good value for money and the vessels are just lovely to hold and drink from.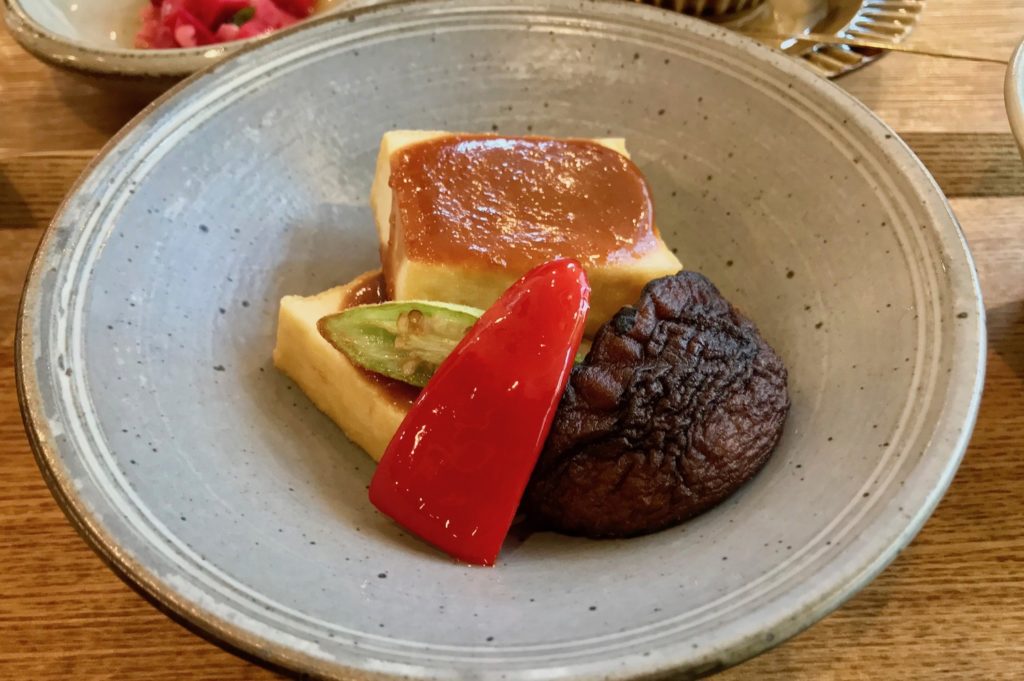 On our visit, this was a main dish of organic tofu topped with a swoon-worthy miso sauce. The lunch set also included side dishes like simmered hijiki seaweed, a light cucumber salad, miso soup with mushrooms, and several kinds of pickles. It would be difficult to eat white rice here, which feels too stodgy. Food like this demands the hearty, nutty flavours of brown rice.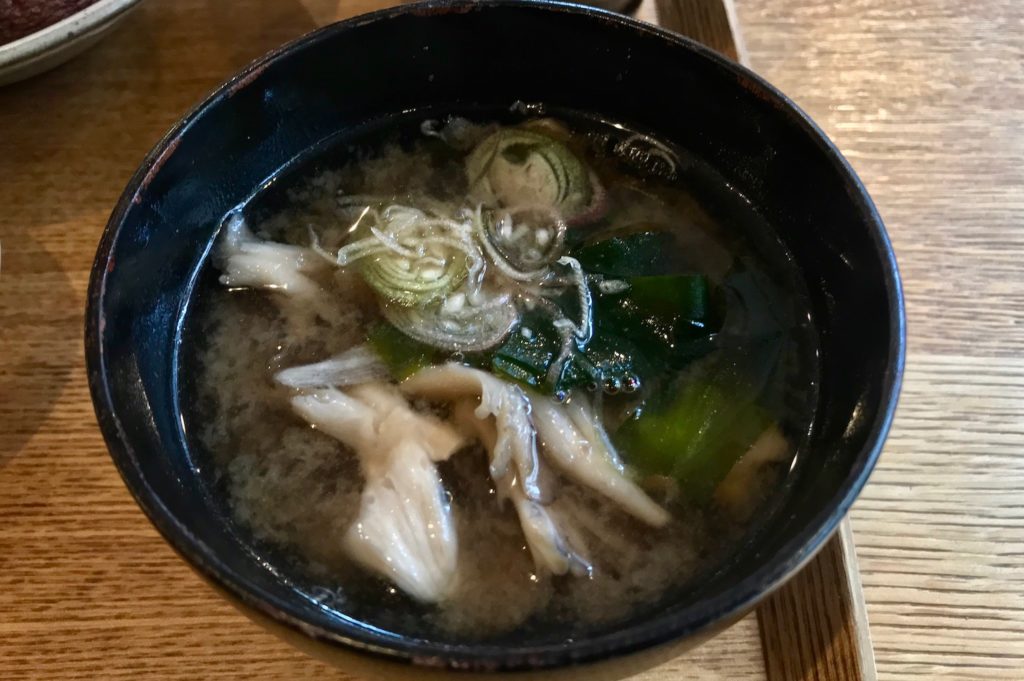 One hesitates to use the word 'virtuous' in connection with lunches like this. Something as essential and pleasurable as a meal should hardly be a vehicle for self-flagellation! But, you do feel lighter for eating like this. Organic brown rice and earthy miso soup are not the sort of dishes that leave you feeling heavy and queasy afterwards.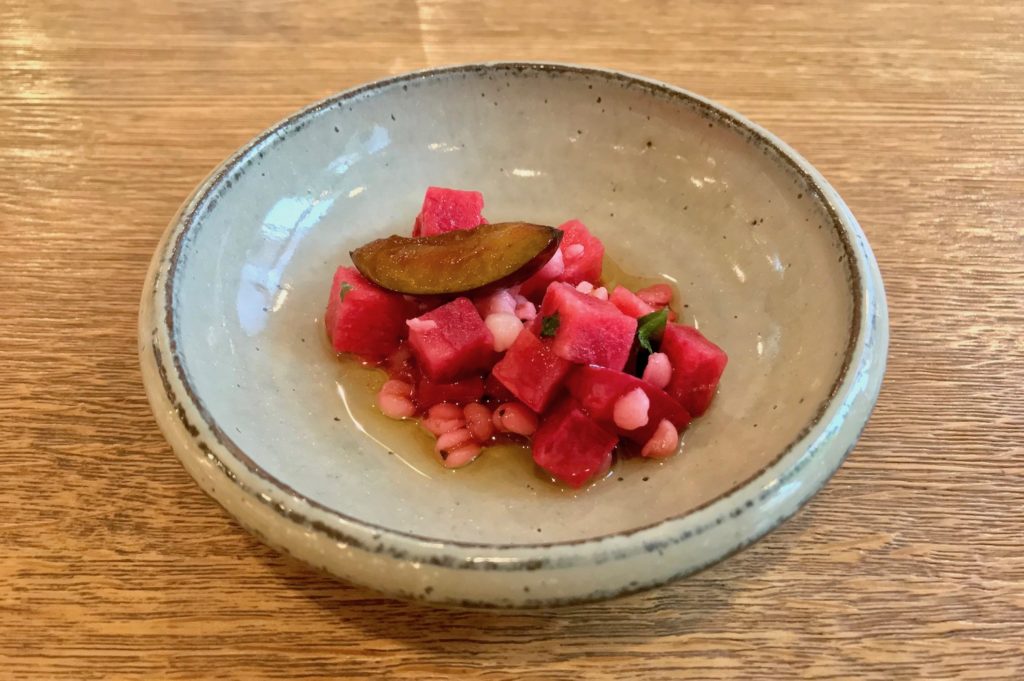 These meals at Brown Rice Canteen are just as beautiful to look at. Yes, they're largely shades of brown, but the vegetables and pickles do add a lovely pop of colour. It really brightens one's mood just looking at it!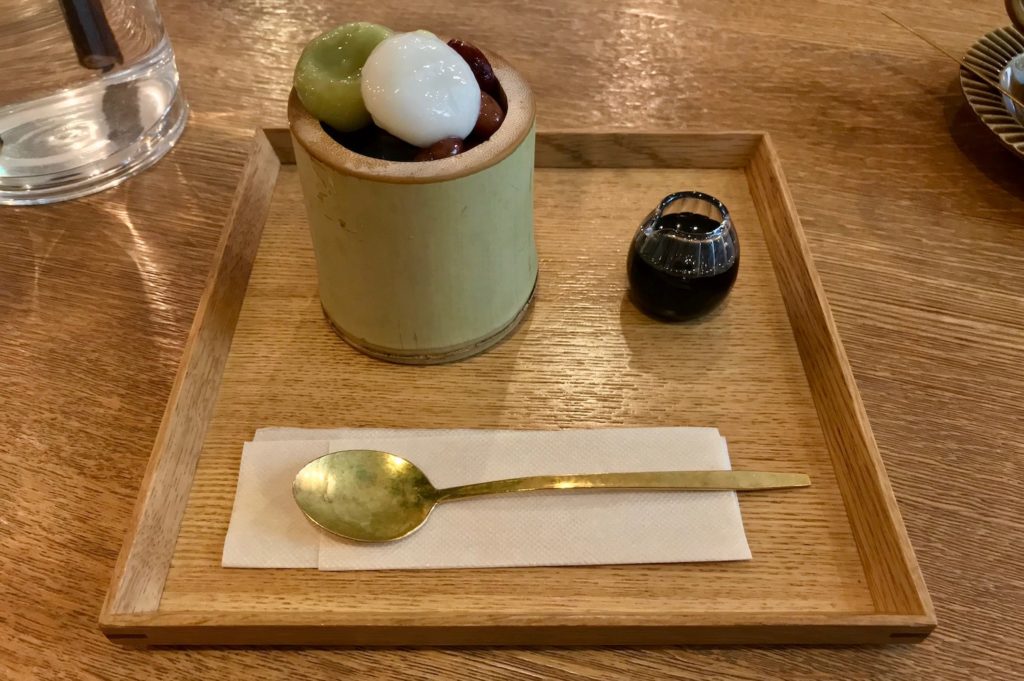 Vegan desserts at Brown Rice Canteen
No meal is complete without dessert, and Brown Rice Canteen delivers on the sweet-toothed front. Yes, it is entirely possible to have a good vegan dessert! My dining companion chose the more traditionally Japanese dessert. This was an assortment of chewy shiratama mocha with red beans and kuromitsu black sugar syrup. It was a very decent example of its ilk, and will appeal to fans of Asian desserts with their attendant textures and contrasts.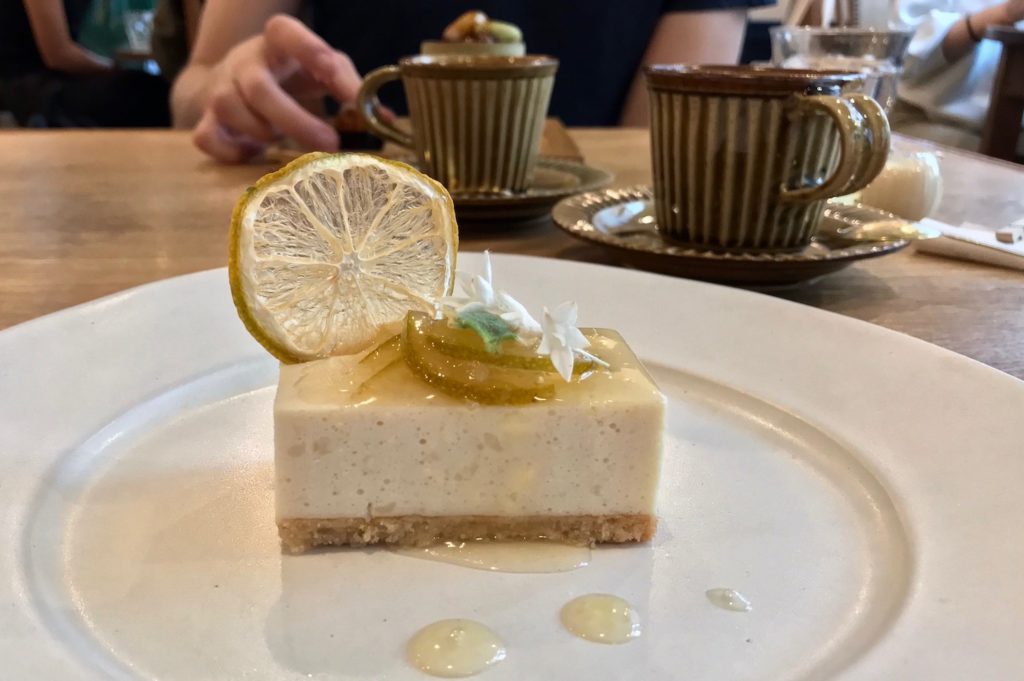 I went for a more conventional but no less tasty option—the tofu cheesecake with lemon. It gets full marks for presentation: a dainty rectangular slab of creamy "can't-believe-it's-tofu" cheesecake drizzled with a tangy lemon sugar syrup, and topped with bittersweet candied lemon slices. It's difficult to go wrong with a citrus-y dessert, and Brown Rice makes this one count.
How to get here
Brown Rice by Neal's Yard is a short walk from Omotesando Station.
Name: Brown Rice Canteen by Neals Yard Remedies
Address: 5 Chome-1-8 Jingumae, Shibuya City, Tokyo 150-0001, Japan
Open: 11:30am–6:00pm (Closed for year-end holidays)
Website: https://www.nealsyard.co.jp/brownrice/welcome/
Post by Japan Journeys.