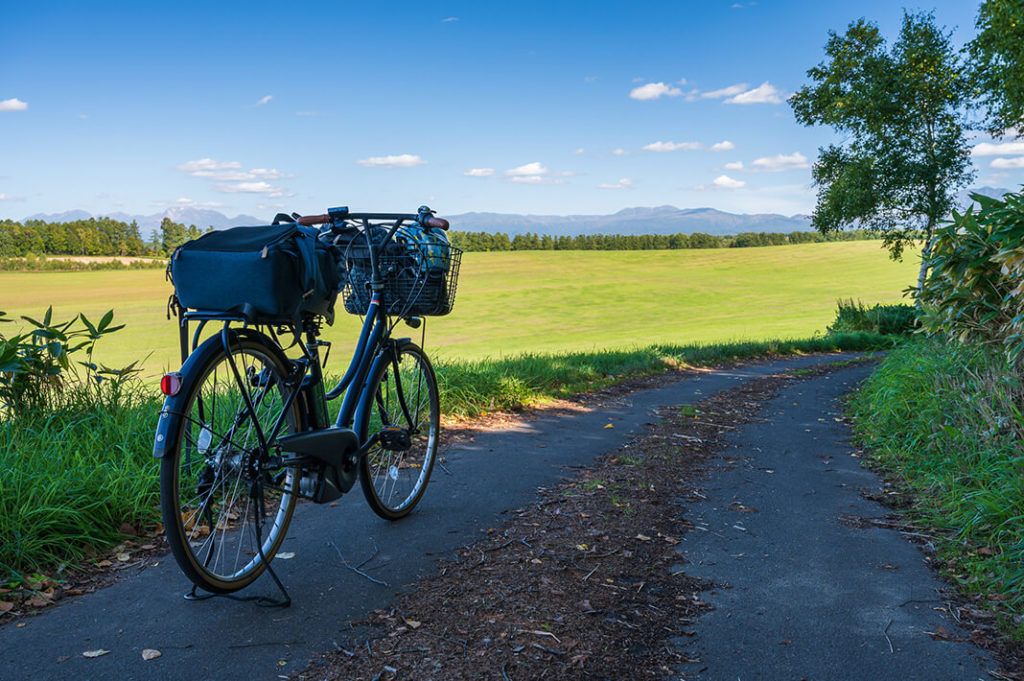 Biei lies in the foothills of Mt. Tokachi, an active volcano in central Hokkaido. It has become beloved for its pastoral scenery and a mysterious aquatic attraction, the Blue Pond, created by happy coincidence. With an area larger than Tokyo's 23 wards, you might imagine that Biei is difficult to traverse without a car. Yet from spring to summer, the lack of busy traffic, cool Hokkaido breeze and astonishing scenery all make this charming region perfect for cycling. With that in mind, we'd like to share our perfect 2-day (1 night) Biei cycling itinerary with you.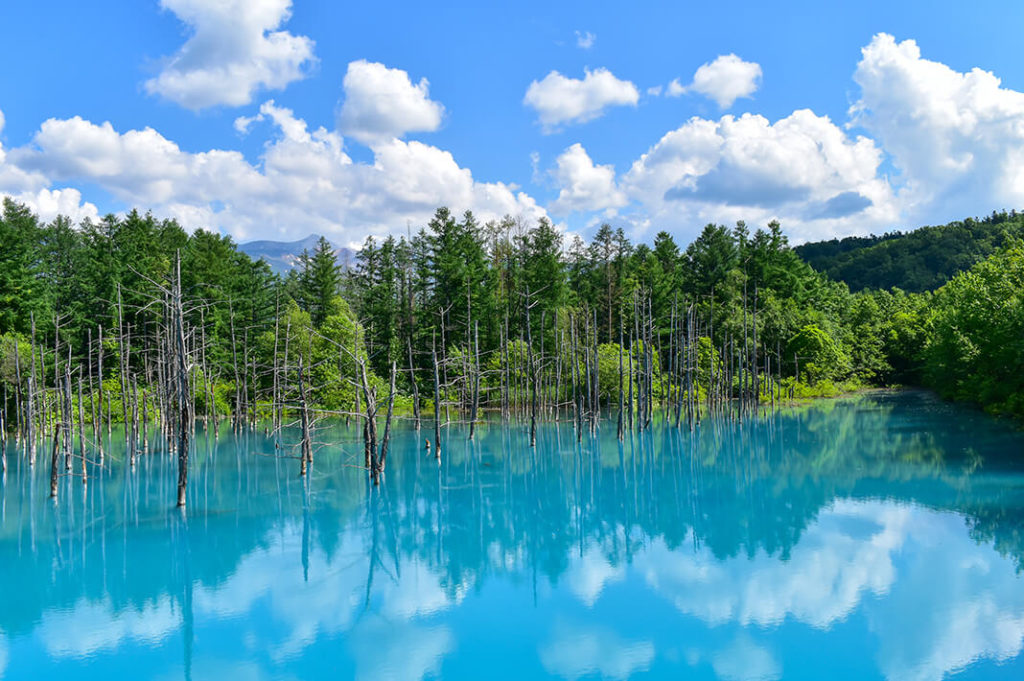 Notes on the Biei Cycling Itinerary
Before we begin, a note on Biei's tourism manners; the fields and meadows that make up Biei's rolling hills are all private property. Setting foot into fields without permission is trespassing, an offence punishable by fines or even jail time. What's more, bacteria and pests clinging to the underside of your shoes can get into the soil, causing diseases and damage to Biei's crops. Yikes! With that in mind, please practice responsible tourism and keep your feet firmly on asphalt roads during your visit.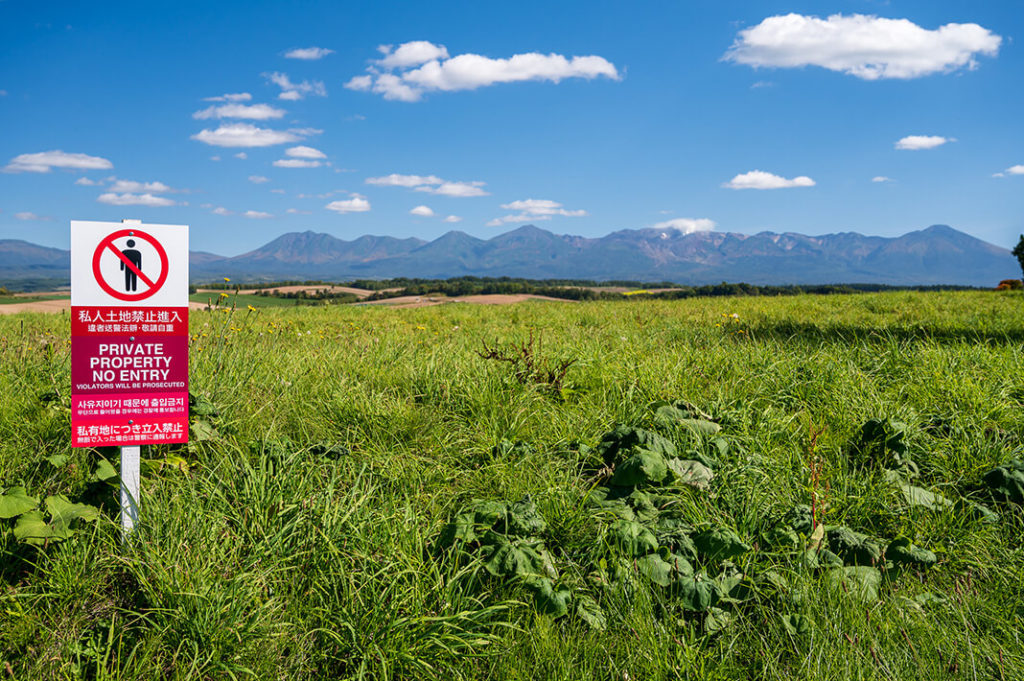 9:00AM Getting in the Saddle
As you arrive at JR Biei Station, you'll be greeted by the towering Mt. Tokachi. Your first stop is Shiki-no-Jouhoukan Tourism Information Centre next to Biei Station, where you can pick up some free road maps and store any luggage.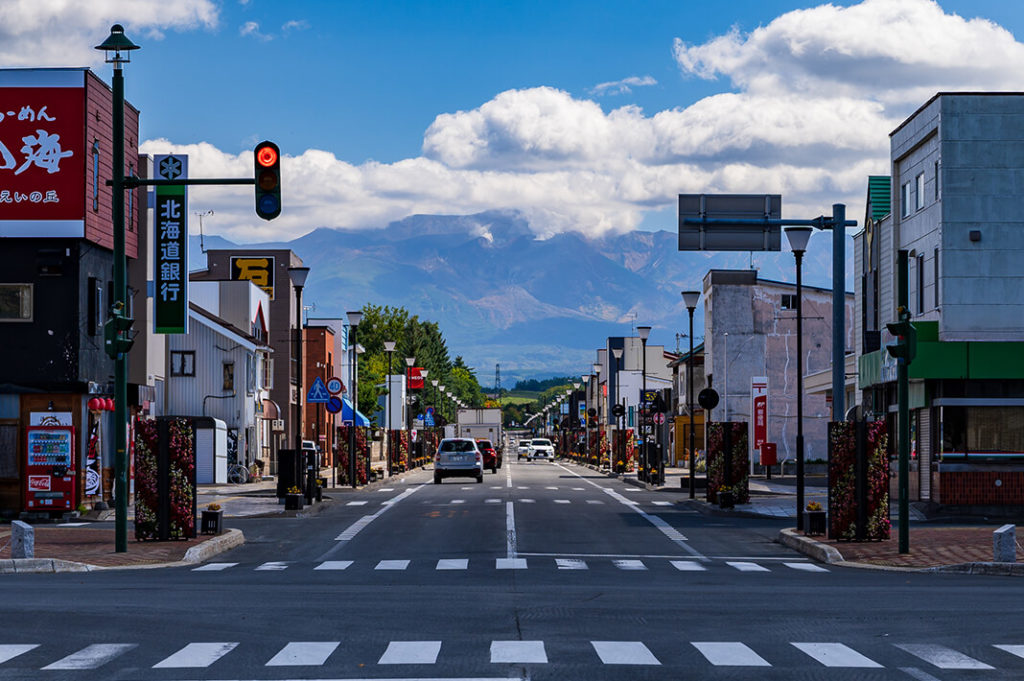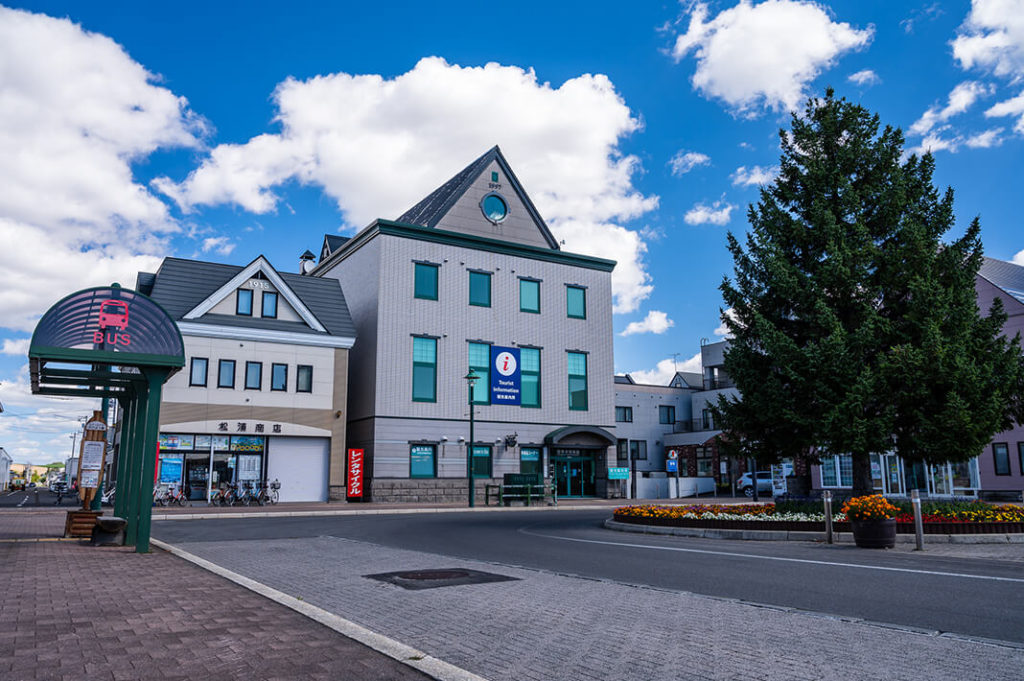 Note also that there are very few vending machines or toilets to be found in Biei's hills, so make sure you've "taken care of business" and stocked up on provisions before setting off. Be sure also to prepare for the weather — sunscreen, hats and sunglasses are a must in the summer while in spring and autumn, a raincoat is recommended due to unpredictable weather. Once you're armed with maps and supplies for your day, head to a rental bike shop.
Step 1: Bike Rental
If you would rather your trip be a leisurely ride and not a workout, an electric bike is highly recommended. Although the rental fee is a little more expensive than regular bicycles, they will allow you to travel far further in far less time. As a bonus, they'll make Biei's steep hills much more manageable. Finally, you're ready to depart! It's time to leave town and explore Biei's vast hills.
9:30AM Biei Station -> San'ai-no-Oka
Crossing a green bridge, you'll head towards viewpoint San'ai no Oka. You'll likely notice the bright blue colour of the Biei River below. You will learn more about this striking colour on Day 2 of your trip, so for now, simply admire the view.
Biei does not have many roads and this, combined with handy signposts at regular intervals along the main routes, means that it is not easy to get lost. If you're feeling confident, check your map and see if you can take a little detour to reach San'ai-no-Oka. The views from smaller roads are often much more spectacular than those from main roads, plus you won't have to worry about traffic quite as much.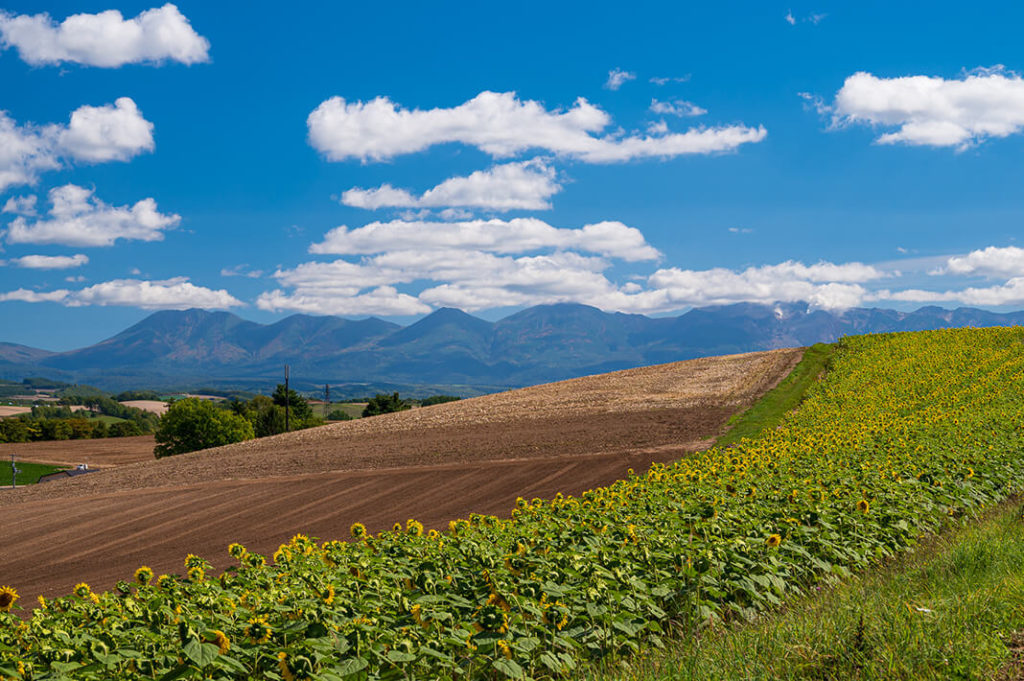 (When detouring, please be careful—roads not marked on your map could be private property or reserved for the use of farm vehicles only. It is wise to stay off them to avoid incurring the wrath of local farmers.)
After a short ride, you'll reach San'ai-no-Oka. It holds a commanding view of the mountains and Biei's hills. This is a great spot to take a break and some photographs.
10:30AM San'ai-no-Oka -> Takushinkan Gallery
Once you're feeling rested, the journey continues. Your next stop is the Takushinkan Gallery.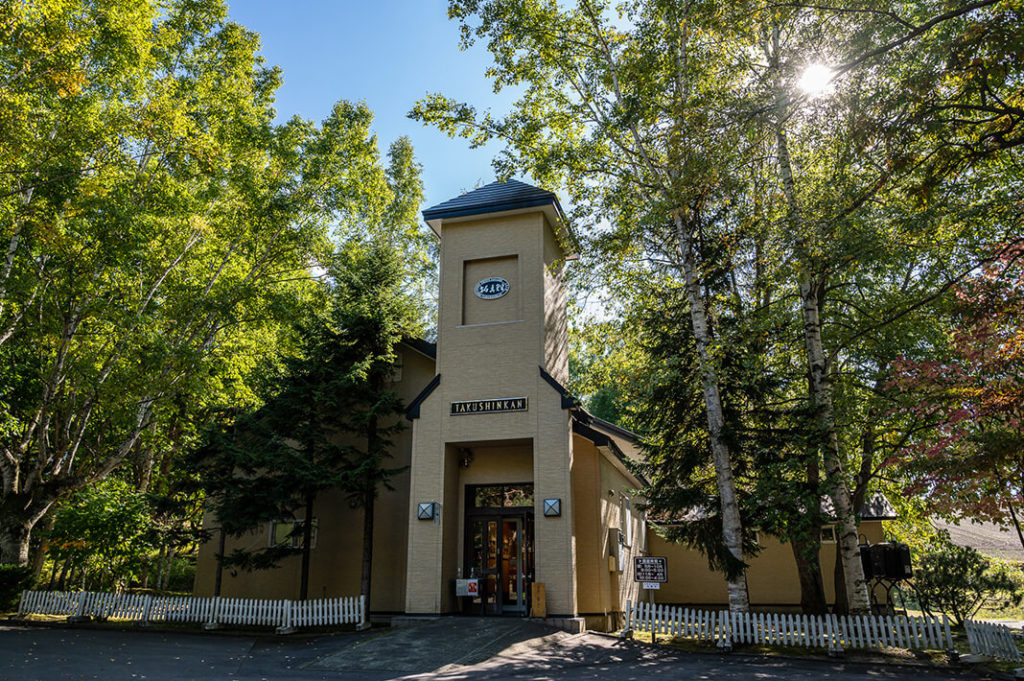 The gallery hosts the works of late photographer Shinzo Maeda. He took many pictures of Biei during the 1980s and his work, admired by the Japanese public, thrust the town into the national spotlight. It has been a popular domestic travel destination ever since.
Behind the gallery is a small promenade through a magical birch grove. This is a good spot to stretch your legs before getting back in the saddle.
11:30AM Takushinkan Gallery -> Shikisai Hill
Your journey continues as we head to Biei's largest flower park, Shikisai Hill. The hills in this region are tough, even with an electric bicycle, so pace yourself and take care on the sheer slopes. Again, if you can, take a little detour… you may stumble across some of Biei's most spectacular views.
Before you visit the flower park, you may wish to take an early lunch. Near to Shikisai Hill is Cafelodge Touch Wood, serving up a Biei speciality… pork! We highly recommend the delicious Biei Pork Spare Ribs.
Name: Cafelodge Touch Wood
Address: Shin'ei 3, Biei-cho, Kamikawa-gun, Hokkaido
Open: 11:30~14:30, Closed on Thursdays
After lunch, Shikisai Hill awaits. This enormous 15-hectare park boasts over 30 species of flower. Peak season falls from July ~ September when 20-something varieties bloom all at once. However, even outside of this window you are likely to see several kinds of flowers in bloom if you visit any time between June ~ October. While you're here, why not try some lavender ice cream and embrace the signature flower of Hokkaido? 
3:00PM Shikisai Hill -> Shin'ei-no-Oka
Once you've enjoyed Biei's beautiful blooms, it's time to head home via Shin'ei-no-Oka, the most famous of Biei's viewpoints.
Shin'ei-no-Oka's view is emblematic of Biei; a red-roofed house among rolling hills, set against the dramatic backdrop of the Tokachi mountains. This view is the perfect way to end your day.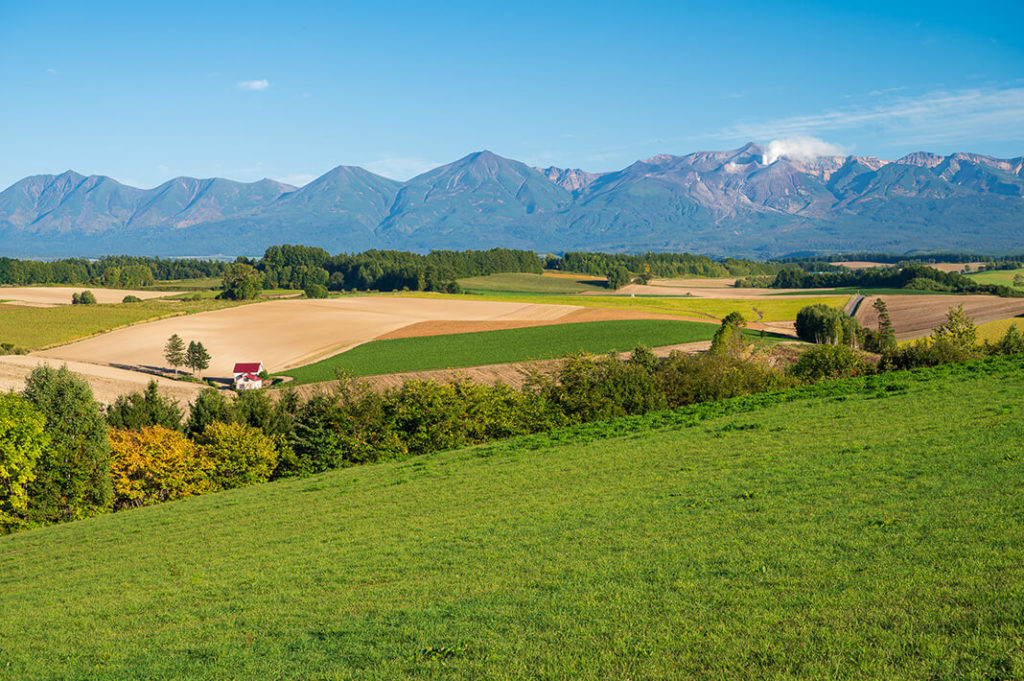 4:00PM Shin'ei-no-Oka -> Biei Station
The end of the day is approaching and it's time to return to town. You'll reenter the central area on a red bridge, further down the river from the green bridge you crossed this morning. The road will take you along the high street and directly back to Biei station.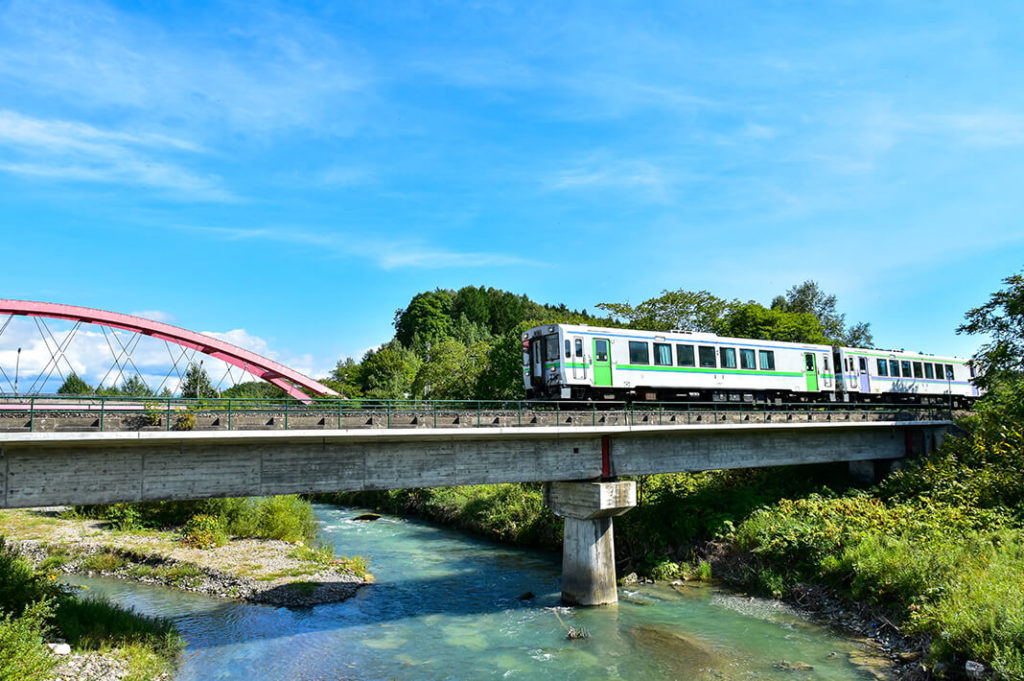 With that, day one of your Biei cycling itinerary comes to an end. In part two, we will explore Shirogane, a wild, forested area at the foot of the Tokachi Mountain Range.
Where to stay in Biei
Nowhere beats Biei's cozy pensions! Pensions are a little like old-fashioned B&Bs. Essentially, you are staying at your host's own home, sharing facilities with other guests and enjoying delicious, homemade meals. Your host may not speak much English, but they will do their best to make you feel welcome.
A full list of available accommodation can be found at the Biei Tourism Association website, but here are our top picks. For those a little far from Biei Station, we suggest using Biei's taxi service.
Natsumi no Sato – visit website.
Pension Tomte Rum – visit website.
Pension With You – visit website.
Post by Japan Journeys.