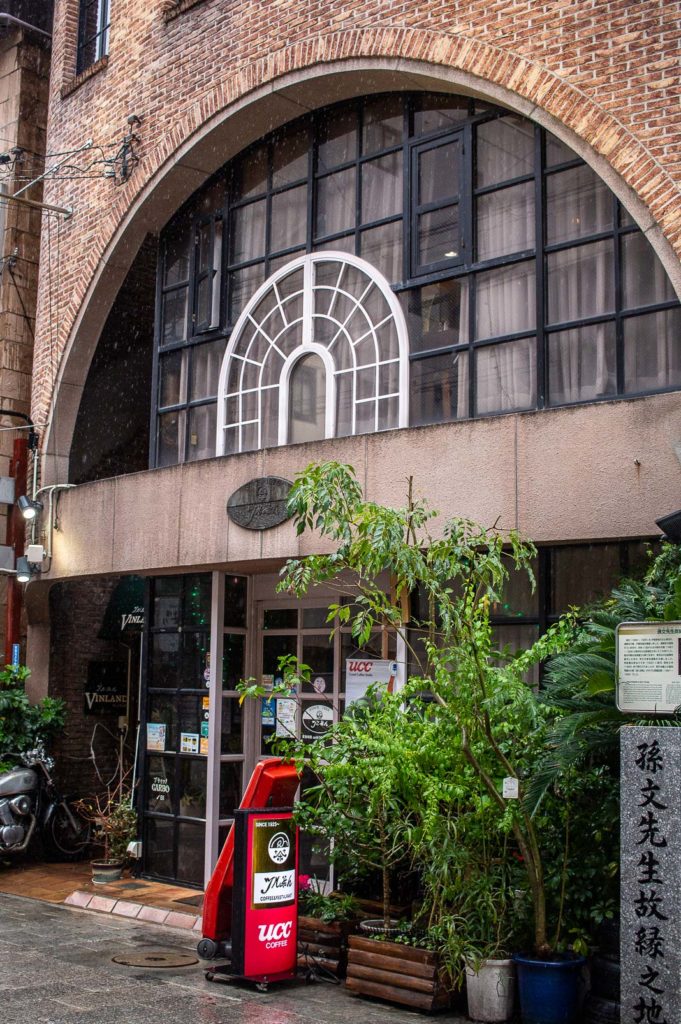 I'm not the first to suggest Nagasaki's food is a metaphor for the city itself; an exciting, and at times confusing, blend of cultures and influences. For hundreds of years, Japan has been sampling new ingredients from foreign lands through this port city, adopting and adapting them to suit the local palate. You've got Chinese influenced dishes like Champon and Sara Udon that are popular to this day, Castella cake from Portugal and then…there's Turkish Rice. Perhaps the most mish-mashy of all, Turkish Rice is a blend of European and Asian ingredients on one big heaping plate. In order to try it, I went to one of the most historic eateries in Nagasaki: Tsuruchan. 
About Tsuruchan
Opened in 1925, Tsuruchan is said to be the first-ever cafe to open on Kyushu. It came at a time when Western ingredients were all the rage, so the menu catered to the craze nicely. Fast forward over 90 years and you can still try some of these early classics, like Turkish Rice and the frozen milkshake.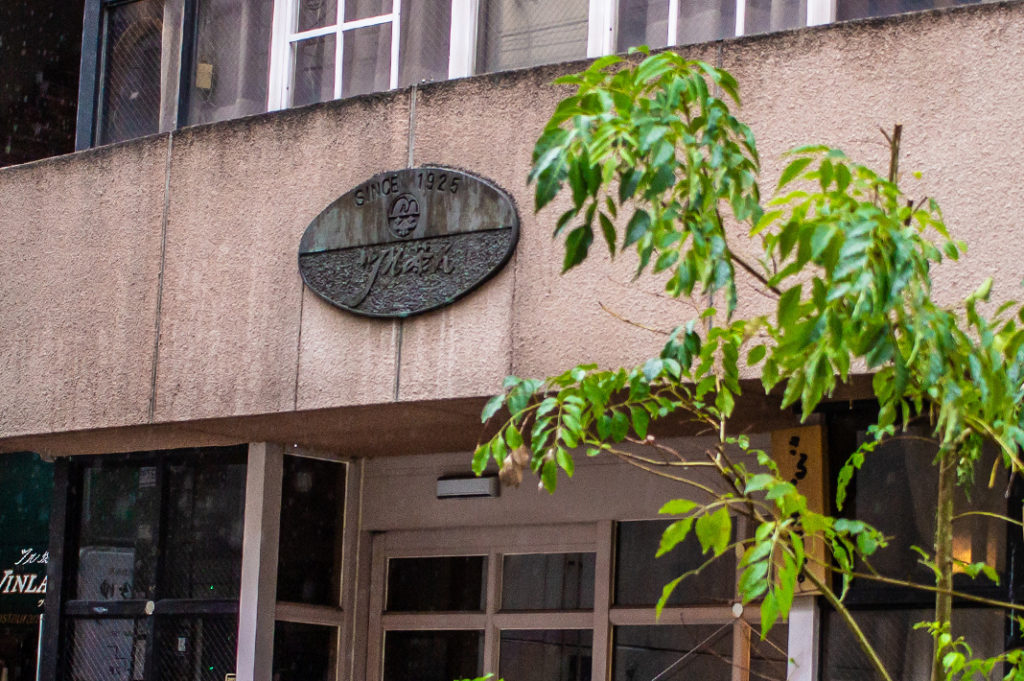 I couldn't pass up the chance to check it out, and came at 2:00 pm on a Monday, thinking I'd outsmarted the crowds. In fact, there was a line out the door so I went to explore the nearby shopping arcade and Sofukuji Temple. When I returned at 3:20 pm, I was in luck. I stepped in, took a seat and surveyed the British tea-roomesque decor before turning my attention to the menu.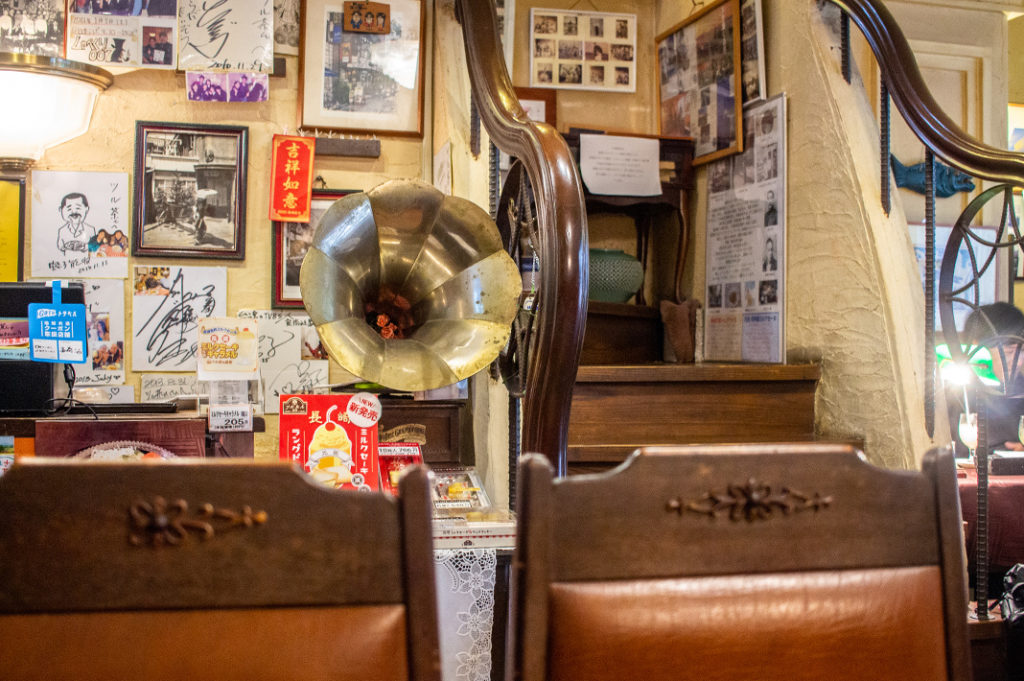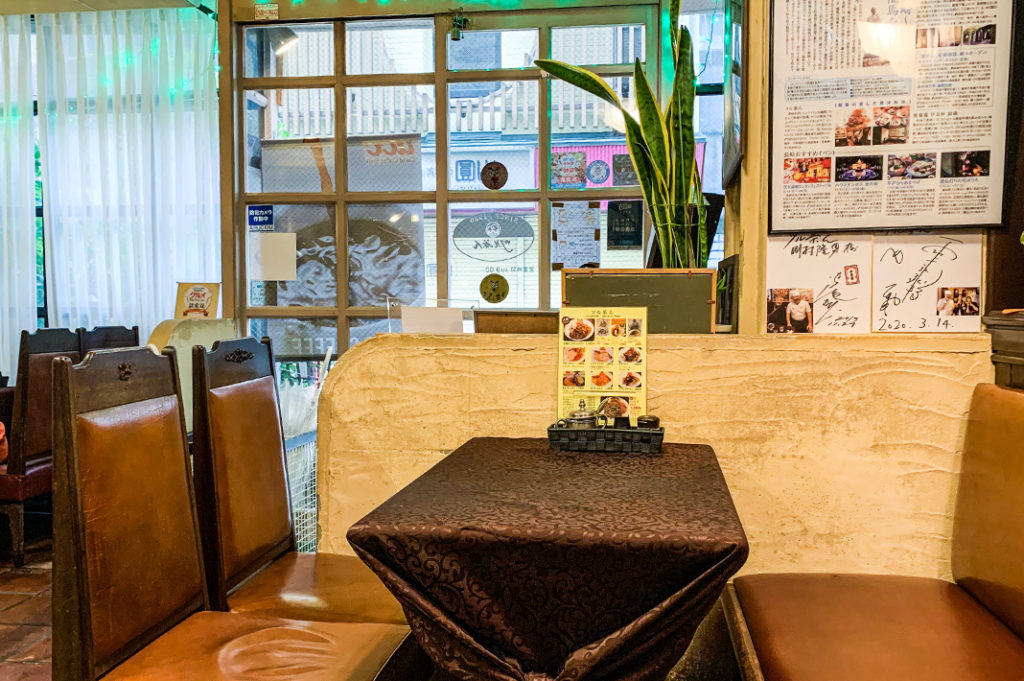 What, exactly, is Turkish Rice?
Turkish Rice, or Toruko Rice, is a dish featuring fried rice, spaghetti Neapolitan, salad and a fried pork cutlet doused in curry sauce. Yes, you read that correctly, no need to adjust your specs. This is the original combination of ingredients, however, Tsuruchan offers versions where you can substitute the cutlet for chicken, steak, lamb, seafood or a demi-glace hamburg. No matter which combination you choose, you'll still have what looks like a buffet plate piled high. It seems that nobody knows where Turkish Rice got its name, as nothing about it is Turkish, as the name would suggest.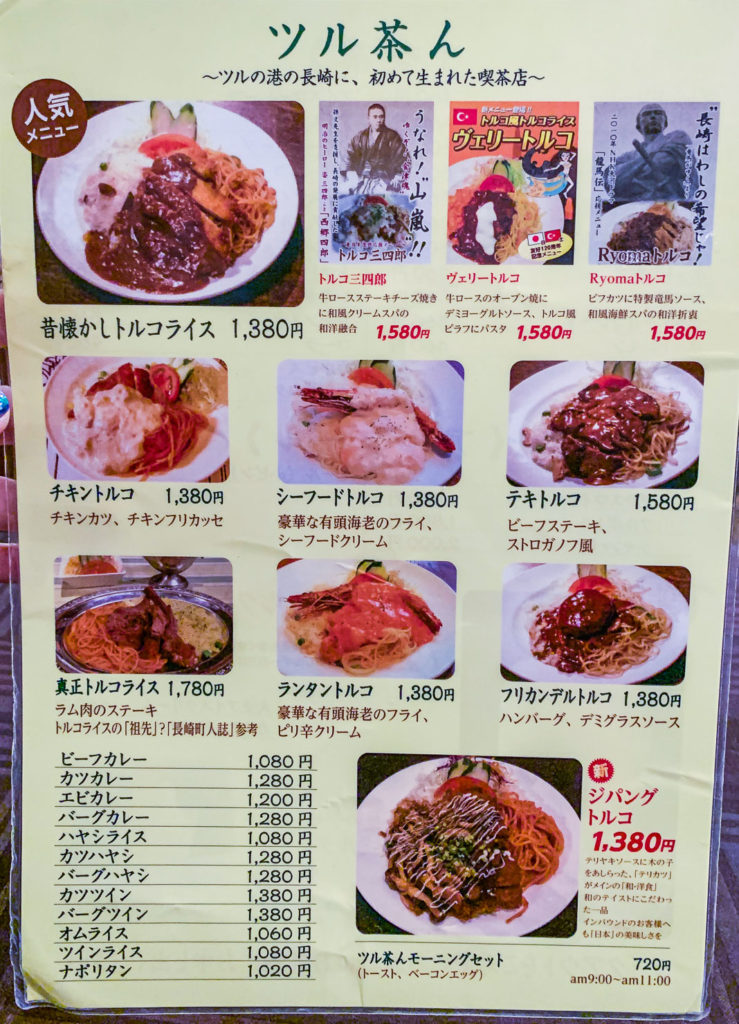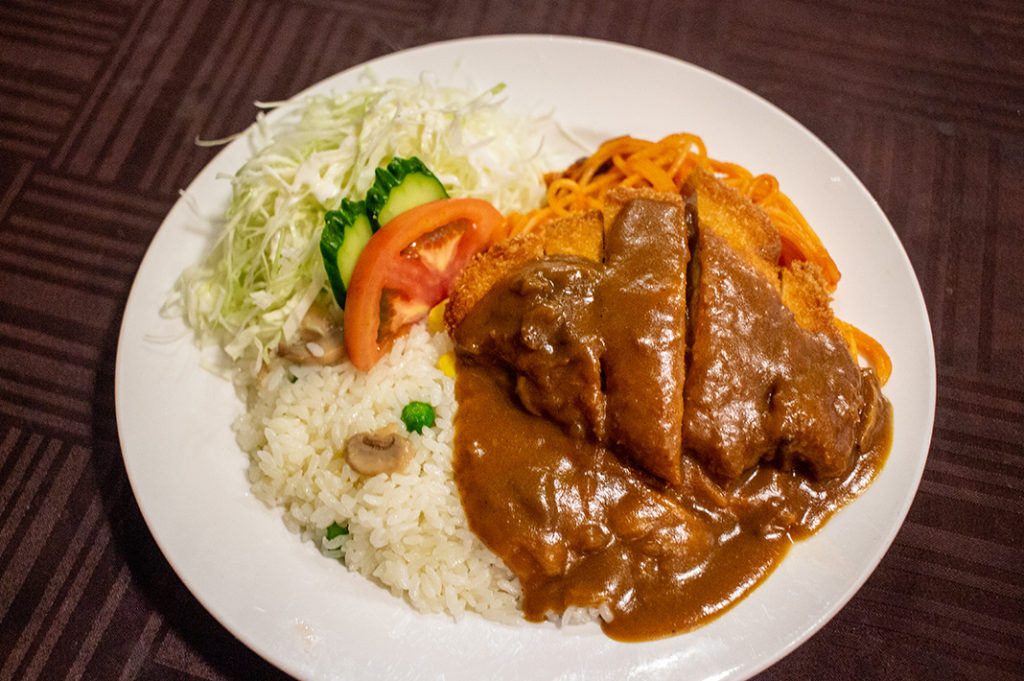 The Toruko Rice experience
When the plate came, I realised my eyes were, once again, bigger than my stomach. Plus my snack of hitokuchi gyoza (one-bite gyoza) wasn't all that long ago. Regardless, I tucked in for my culinary trip around the world, starting with Italy. The spaghetti was vinegary and tomatoey with a few veggies interspersed; perfect for scooping up with the less-intensely flavoured rice and shredded cabbage. The pork cutlet was thick and crunchy, and I kept pairing it with other ingredients to find the perfect combination. I can't say I arrived at one, but it was fun to try.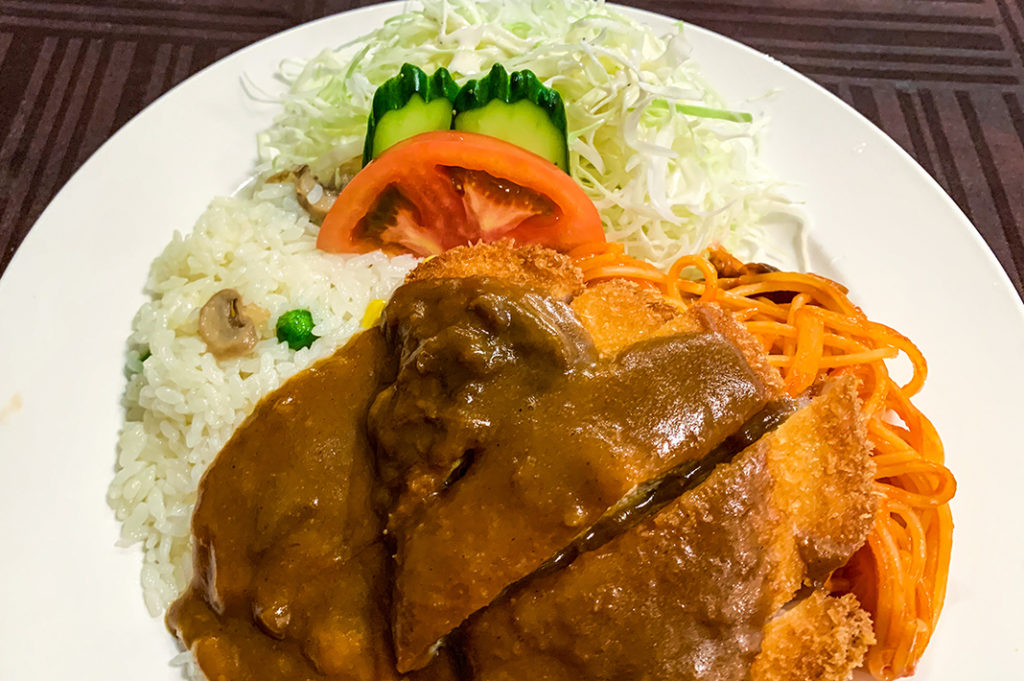 After a while, I was so full that I finished off the cabbage salad and sat dazed for a little while, breathing deep and thinking about the night ahead. When the women at the next table weren't looking, I dropped a belt notch and pushed my half-eaten meal away, defeated. I really hate leaving food, but it wouldn't have been a good idea to push through this time. I apologised to the waitress when she collected my plate but something told me she'd seen it all before.
The Milk Shake
The three women at the next table were gracefully sharing one of Tsuruchan's famous frozen milkshakes, pronounced miruku se-ki. I couldn't bring myself to order even the half-size version, so I instead lived vicariously through their dessert experience. If you visit in the sweltering Japanese summer, make sure you try to get yourself one of these!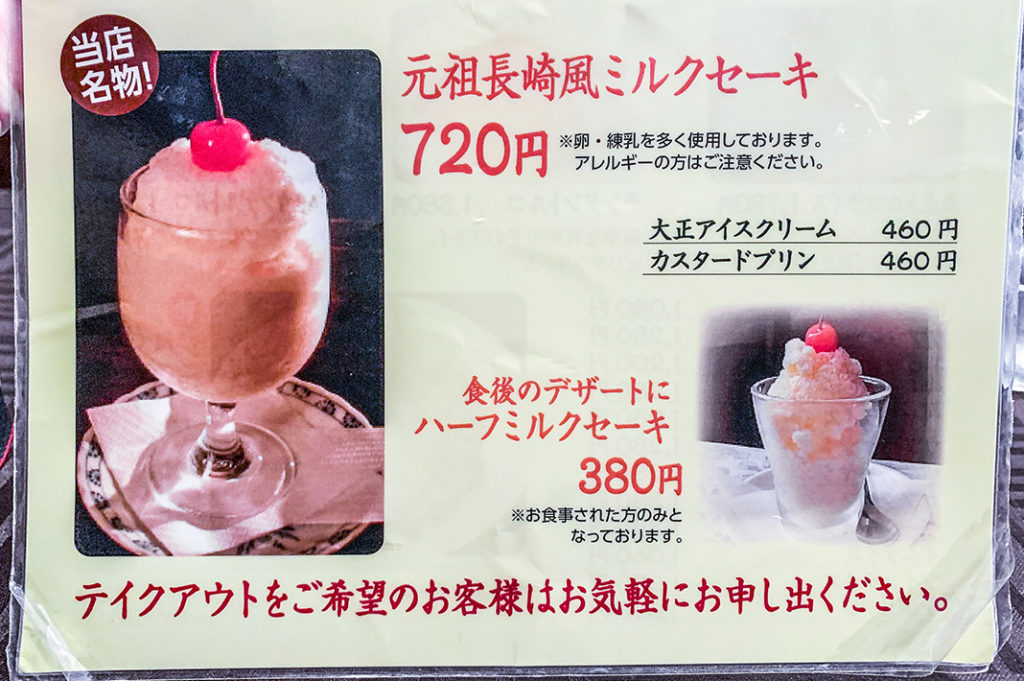 The third floor update
I had read somewhere online that the third floor contained lots of antiques and treasures from the cafe's early years, so I thought I'd head up to see them. When I got to the second floor, I crossed the dining room and went through a doorway that led to the next staircase. As soon as I stepped through, an older woman popped out and asked what I was doing. I explained that I'd read about the third floor on a website. When she realised I wanted to take pictures of the antiques, she led me up past boxes of cabbages and tins of tomato sauce. 
It seems the small carpeted room on the third floor was a dining area in the past but now functions as a kitchen, store-room and staff room. Despite this, she led me in and cackled as the chefs behind the bar got self-conscious and the sleeping waiter lifted his head from his folded arms in confusion.
Tables were stacked on top of one another, except for the ones that doubled as a bed, and cooking ingredients sat all over the room. She laughed and apologised for the 'mess' but told me to take my time. Honestly, I was eager to let the staff go about their business. I took a few shots, swapped apologies and hurried out pretty quickly. Just a word to the wise for anyone who was thinking about visiting the third floor!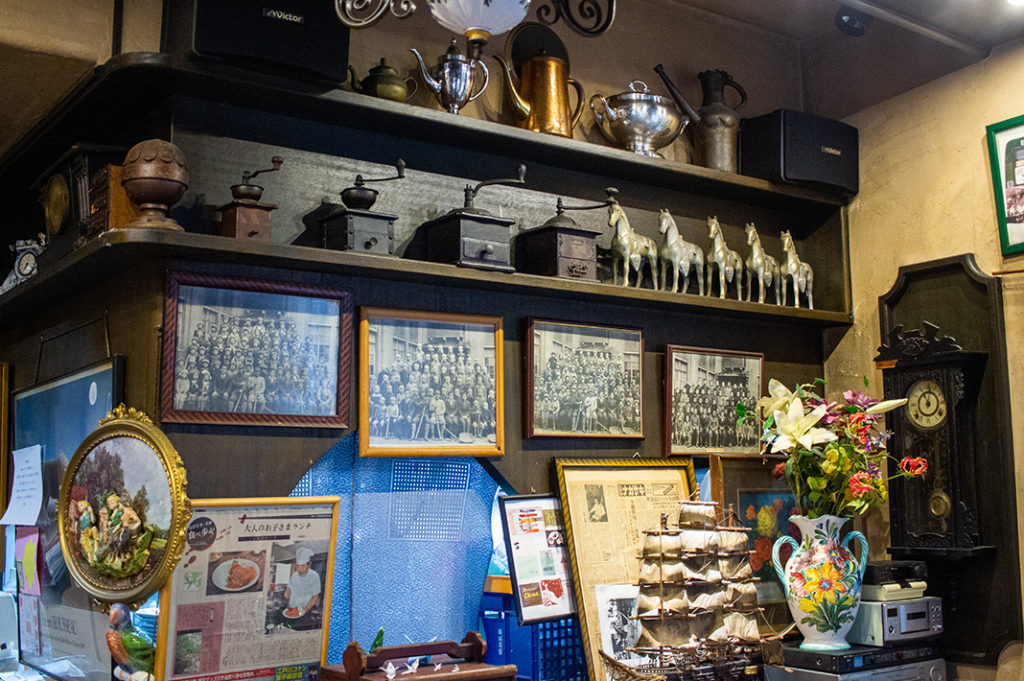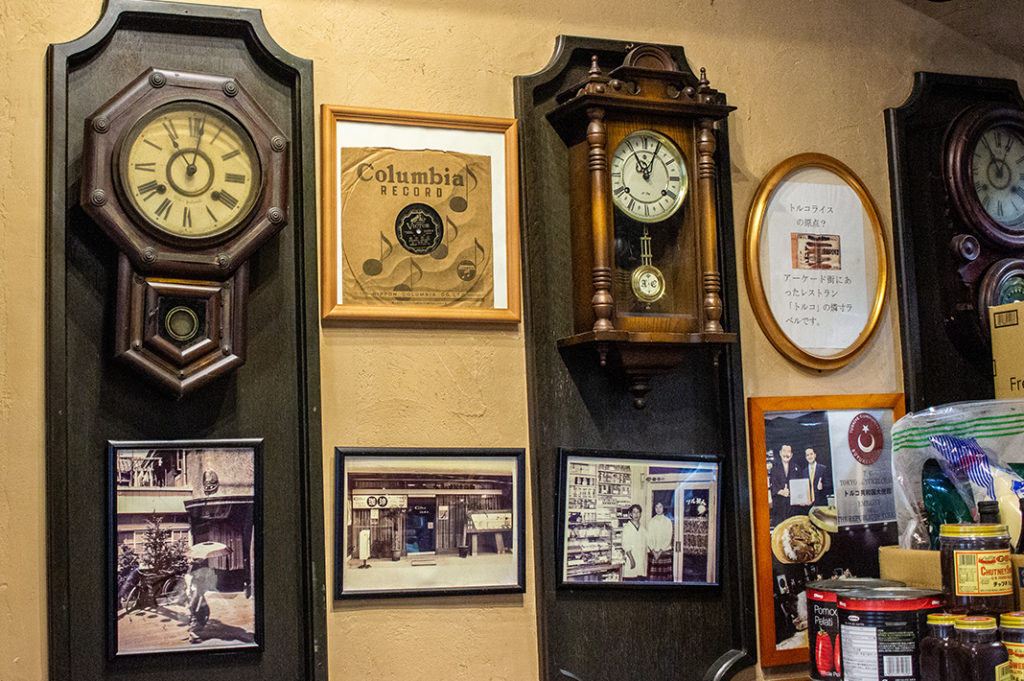 A classic Nagasaki dish
Though it resembles a buffet lunch, Turkish Rice is definitely worth a try. It's a great meal for the fussy eaters out there! If you can't get into Tsuruchan or don't want to wait, you can find Turkish Rice all over Nagasaki. Don't forget to check out other classics like Champon and Sara Udon, which are a little more Chinese-influenced. Click on the links to read more about them. 
Access:
Tsuruchan is located a 1-minute walk from the Shiambashi tram stop, on either line number 1 or 4. While you're in the area, consider checking out Sofukuji Temple.
Name: Tsuruchan
Address: 2-47 Aburayamachi, Nagasaki, 850-0832 (link)
Open: 9:00 am – 9:00 pm
Post by Japan Journeys.