Arashiyama is perhaps best known for its Bamboo Grove, but there's another forest by the station that's eye-catching in an altogether different way. During renovations of the Arashiyama Randen Station in 2013, artist Yasumichi Morita was tasked with creating an art installation to re-invigorate the area. In response, he created The Kimono Forest, a modern take on traditional Japanese textile design. Follow this charming path in the right direction and you'll even find yourself at a relaxing public foot bath!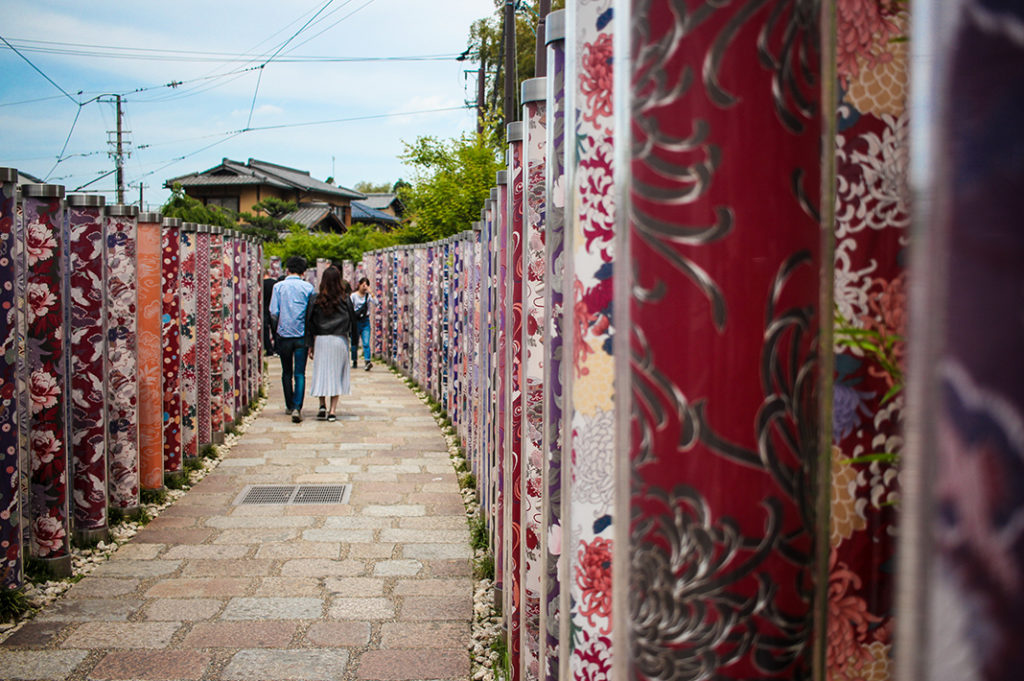 What is the Kimono Forest?
The Kimono Forest is a collection of 600 clear cylinders, each standing two meters tall and housing pieces of gorgeous kimono fabric. They can be found on the platforms, among the rocky tracks and running alongside the station. Together, the cylinders vaguely resemble the tree trunks of a forest, hence the installation's name.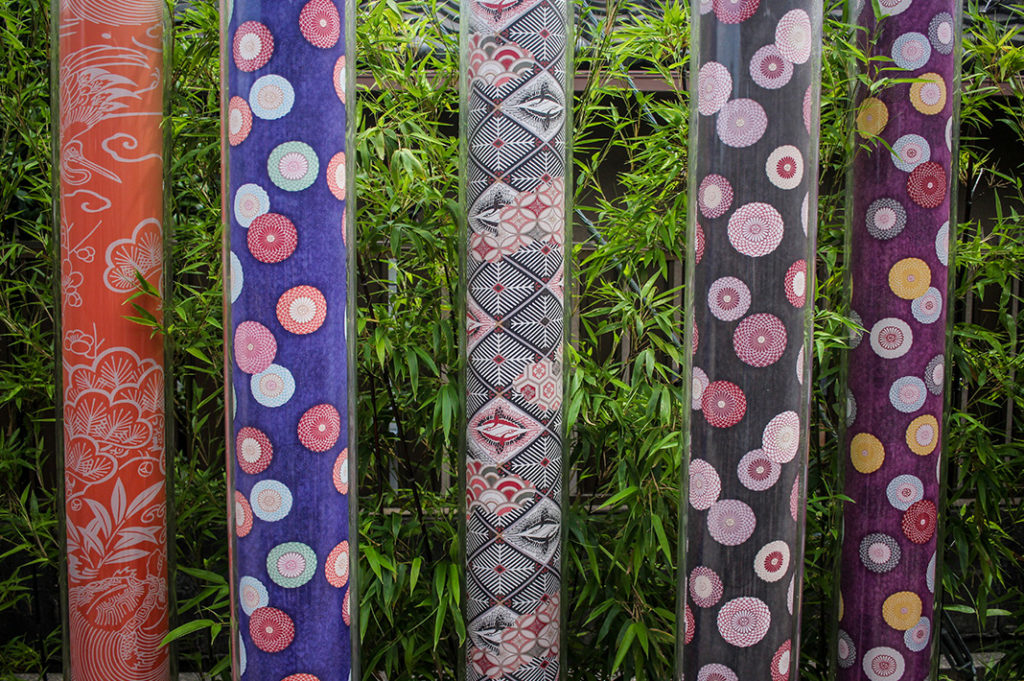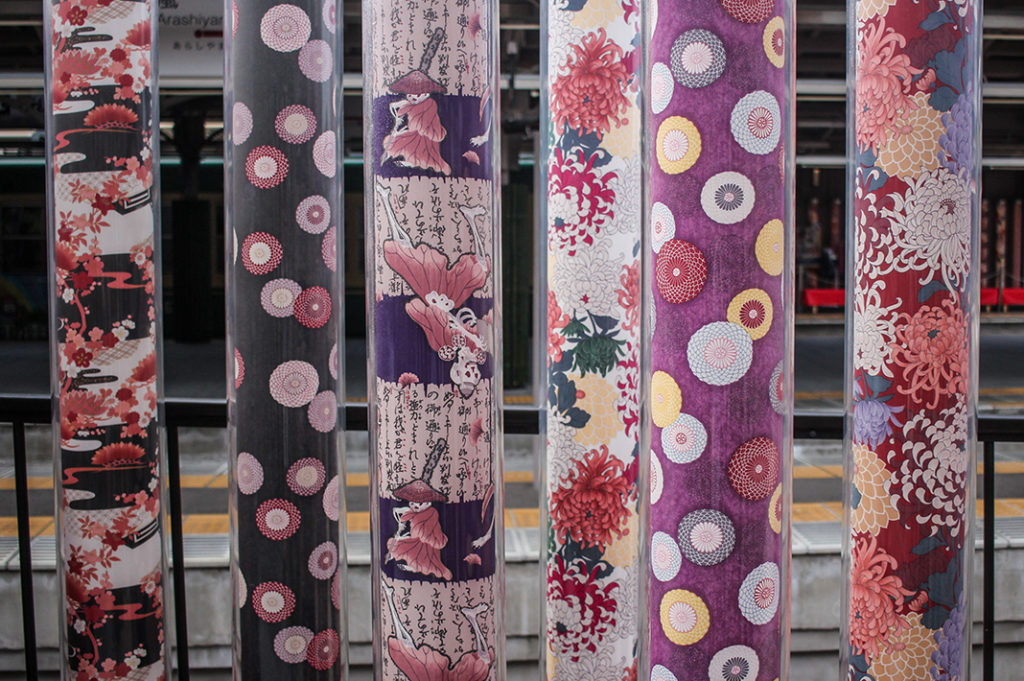 On the southern side of the station, the kimono-flanked path leads to a small 'Dragon Pond' where you can make a wish. Great for those who've accumulated a large sum of small change, from which they'd be happy to part.
At night, the Kimono Forest looks rather different. The tubes are illuminated which creates a romantic environment for an evening stroll. Just be sure to visit before 9:00pm, otherwise you'll be walking in the dark!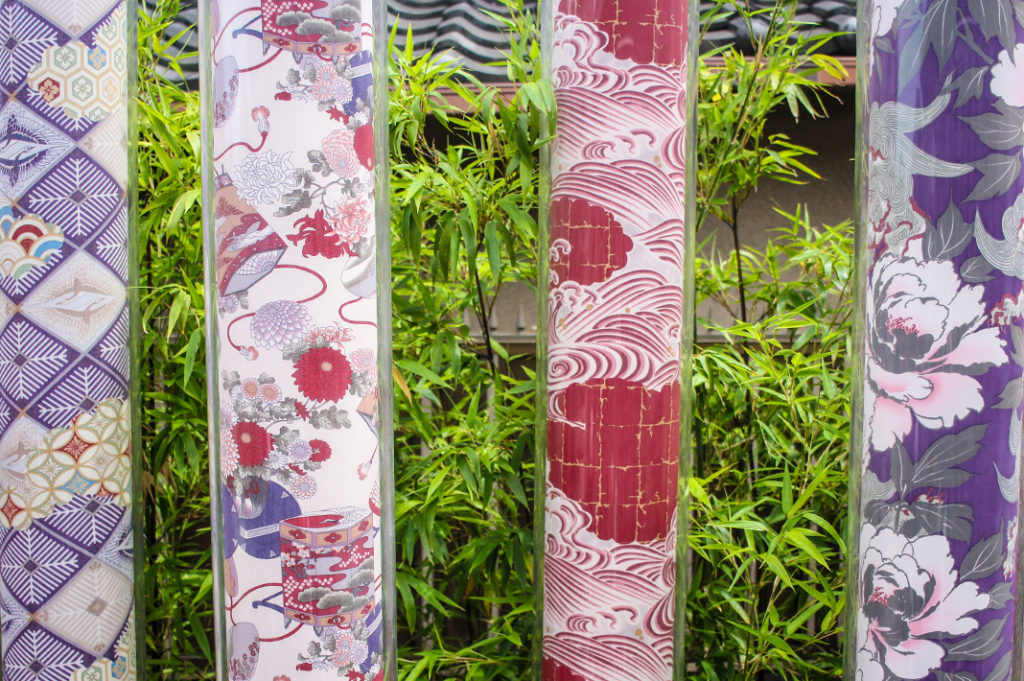 The designs
Take your time examining the intricate designs inside the cylinders. From geometric to floral to downright spooky, they represent the breadth of possibility in Japanese textile design.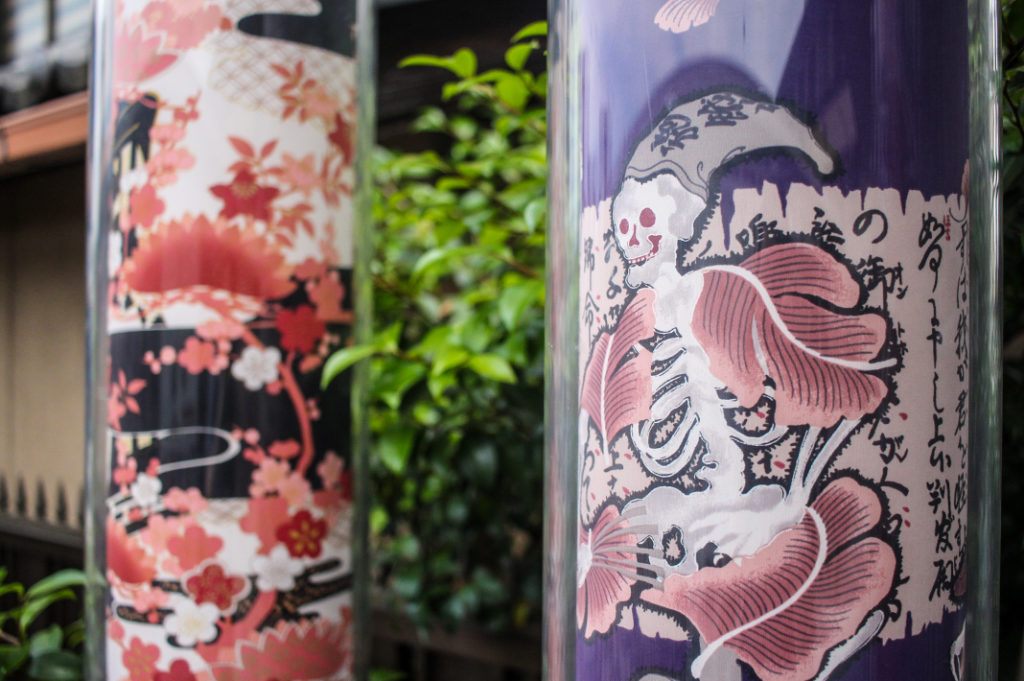 As you make your way along, you may start to notice some repeated patterns. That's because there are only 32 designs in total in the forest, all chosen by the artist Yasumichi Morita.
The fabrics were dyed in the 'Kyo-yuzen style', which dates back to the Edo era (1603-1868), at the local 'Kamedatomi Fabric Company'. Head over to their website to learn more about this traditional technique and see their modern take in producing 'aloha' shirts.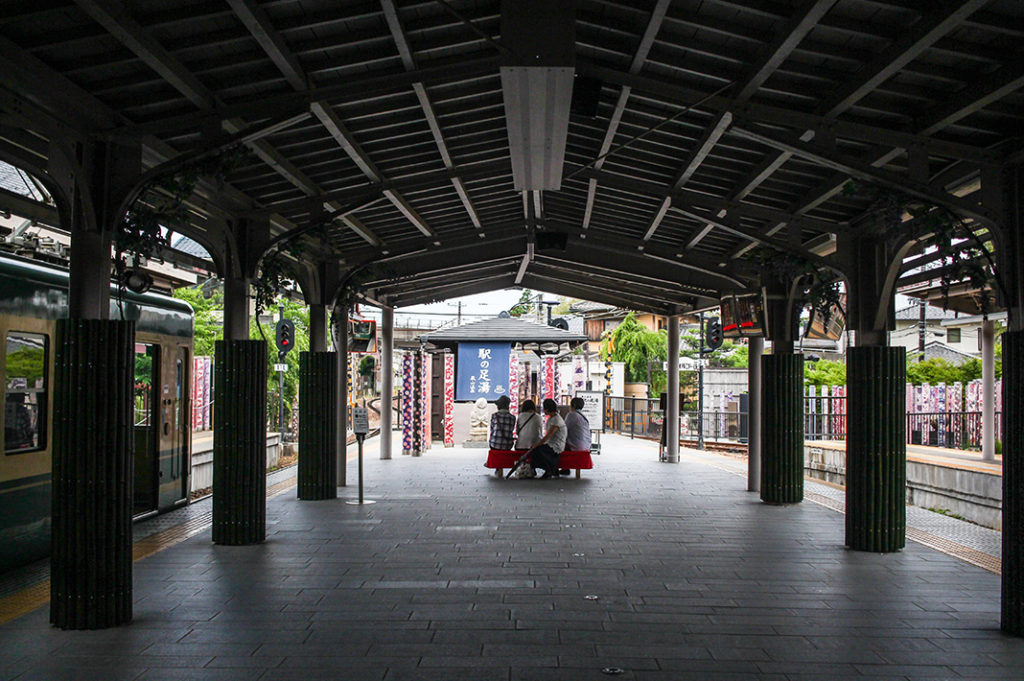 Relax at the foot bath
Follow the kimono forest onto the central platform of Arashiyama Randen Station, and you'll find the free public foot bath, or ashiyu. The water is steamy and hot, and you can enjoy watching the trams come and go as you unwind. I can't think of a better activity to follow a long day of exploring this charming town.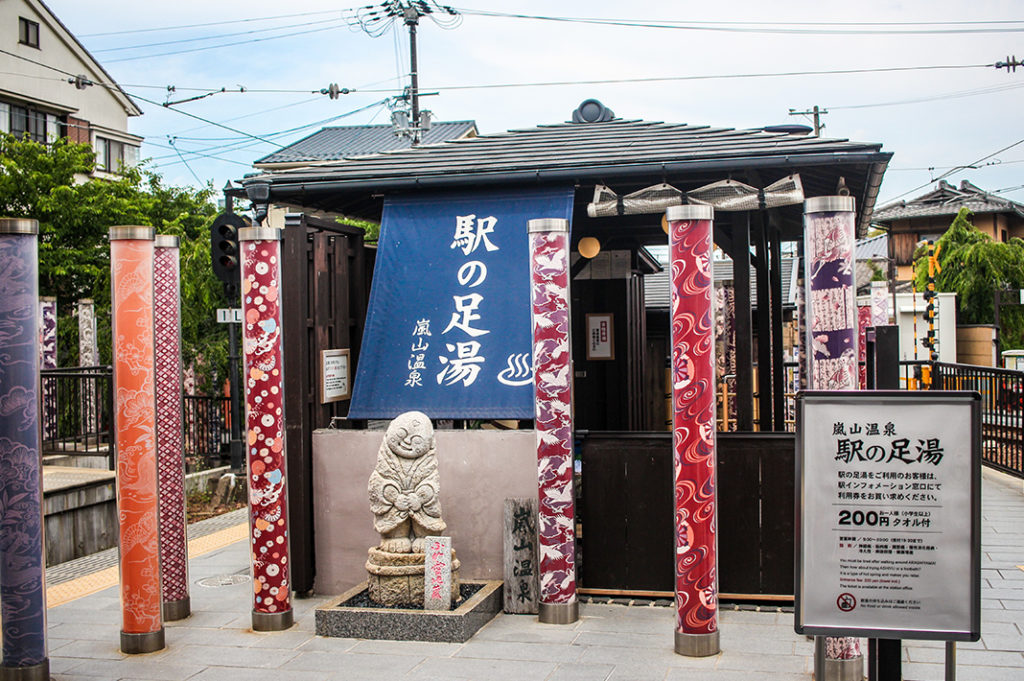 Typically open from 9:00am until 8:00pm (shorter hours in winter), you can pick up an entry ticket for 200 yen from the station information office. This includes a towel for drying your legs off afterwards. For those who haven't tried ashiyu before, simply remove your shoes and socks, roll up your pants and dip your legs into the soothing hot water.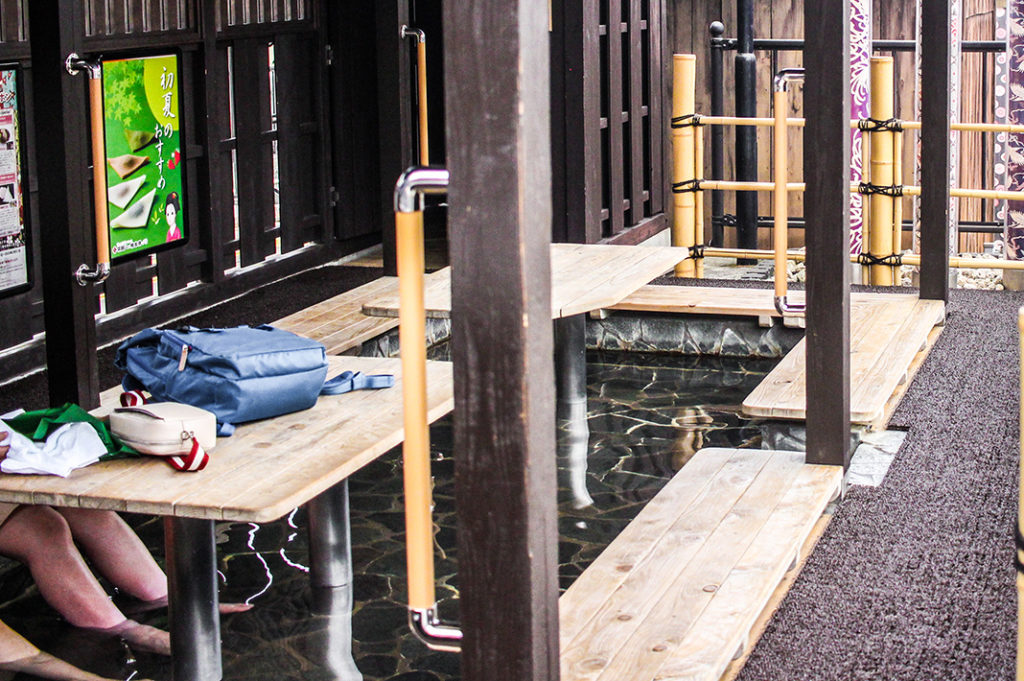 Once you're sitting there, you may wonder what to do next. Well, that's up to you! Close your eyes and relax or enjoy a chat with your fellow bathers. The only rule is that you leave snacks and drinks out of the bath to avoid floaties!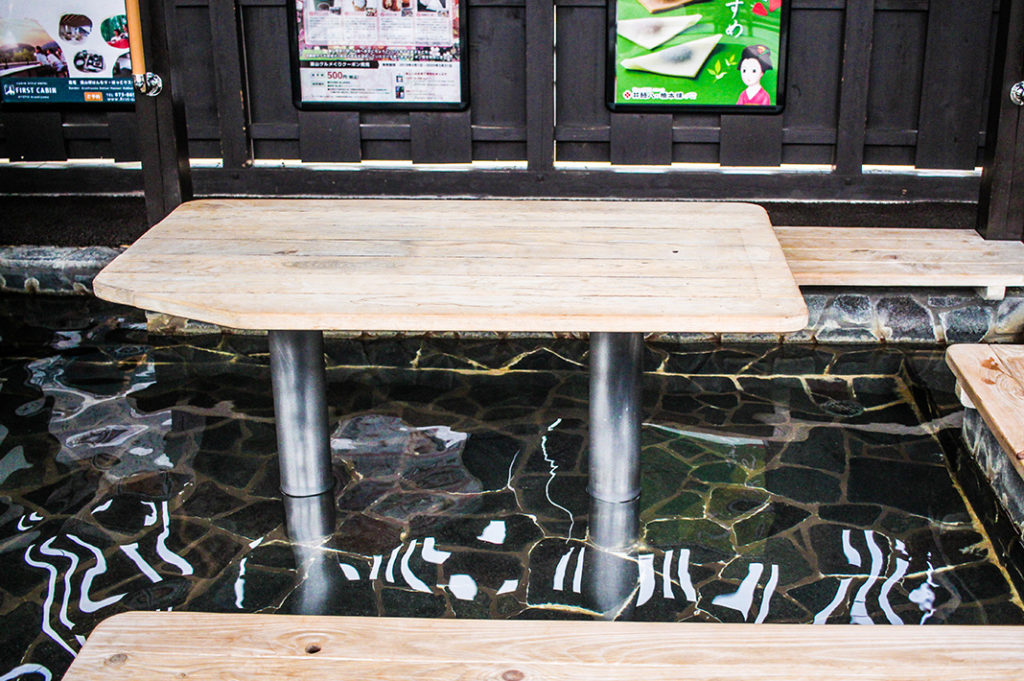 Arashiyama is a delightful town brimming with traditional temples, beautiful scenery and interesting shops. If you're interested in seeing an eye-catching blend of Japanese design and modern art, take a walk through the Kimono Forest. And, if you have time, finish it all off with a soak at the foot bath!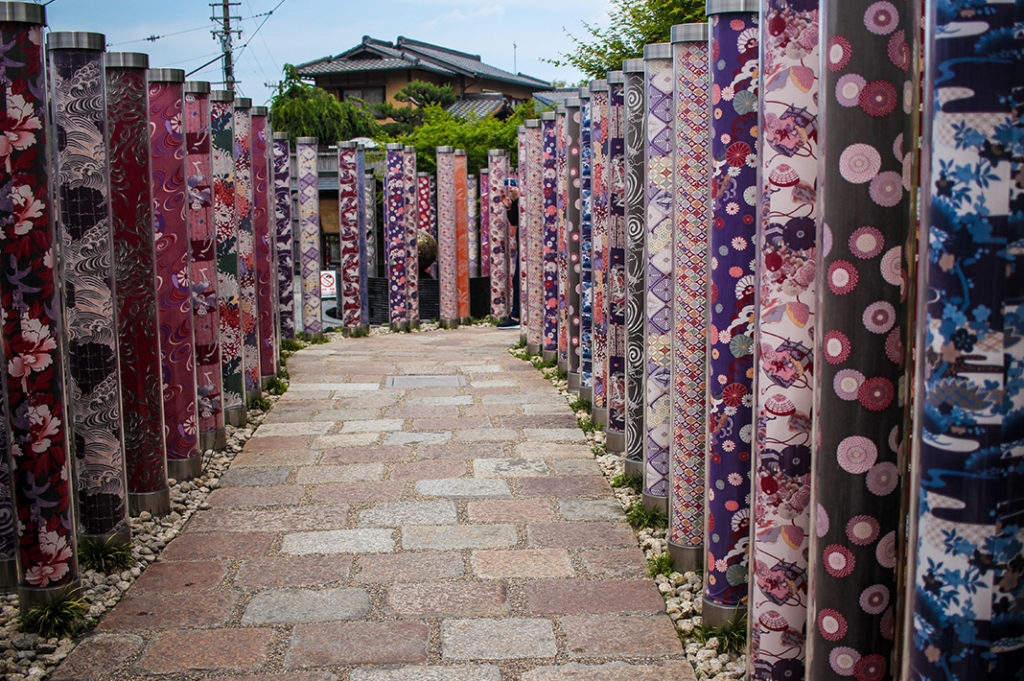 Getting there
Arashiyama is roughly a 30 minute train ride from Kyoto, accessible via multiple train, tram and bus routes. There are three stations, but the Kimono Forest is located at Arashiyama Station, serviced by the Keifuku Dentetsu Arashiyama tram line. Also known as the Randen line, it will bring you back into Kyoto near Omiya station. However, if you want to see more sights, this line can also take you to Ryoanji Temple.
You could also arrive at one of the other Arashiyama Stations via the Hankyu-Arashiyama Line or the JR San-in Line. It is a 15 minute or 3 minute walk to the Kimono Forest, respectively.
Name: Kimono Forest
Address: Arashiyama Randen Station (link)
Open: 24 hours
URL: click here
Check out our articles covering other things to do in Arashiyama; the Bamboo Grove, Okochi Sanso Garden, Monkey Park, Michelin Zen Buddhist Food at Tenryuji Temple and great shopping opportunities.
Post by Japan Journeys.