Vegans have a tough time of it in Tokyo—at least, that's how it used to be. These days there are far more decent culinary options out there for plant-based eaters. One of the best places for vegan food in Shibuya is Nagi Shokudo.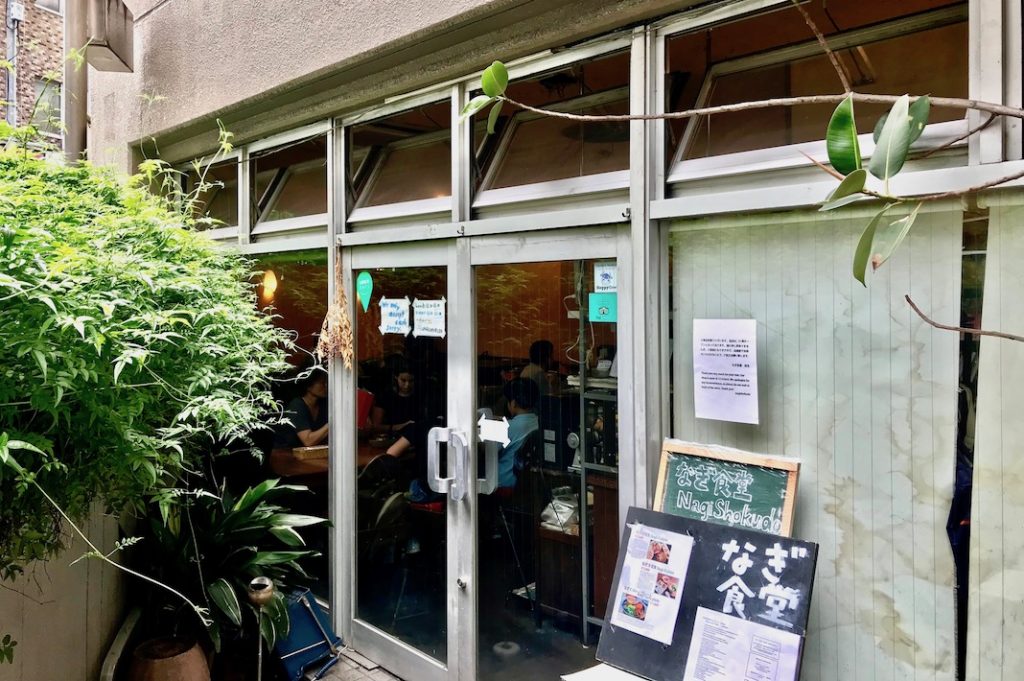 Japanese-style vegan food
Located a few minutes south of Shibuya Station, Nagi Shokudo is a relaxed, charming little deli-restaurant that's a favourite with vegan eaters and local office workers. They have a lovely library of English and Japanese-language zines to browse. Plus, the background music is happily devoid of mainstream pop.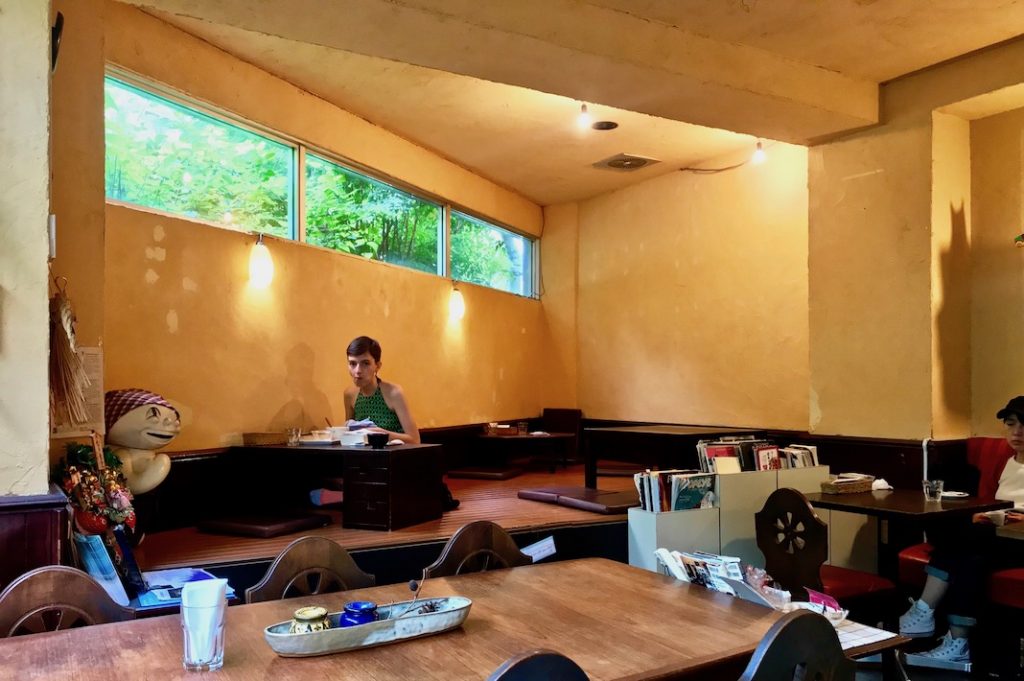 Menu options at the majority of vegan restaurants in Tokyo skew towards Western-style dishes. This isn't so surprising, since most self-proclaimed vegan diners tend to be non-Japanese and from Western countries. But I like Nagi Shokudo precisely because their food evokes Japanese farm food and Asian macrobiotic diets, rather than the usual vegan burgers or fries. Think brown rice, miso soup, and a medley of vegetable side dishes.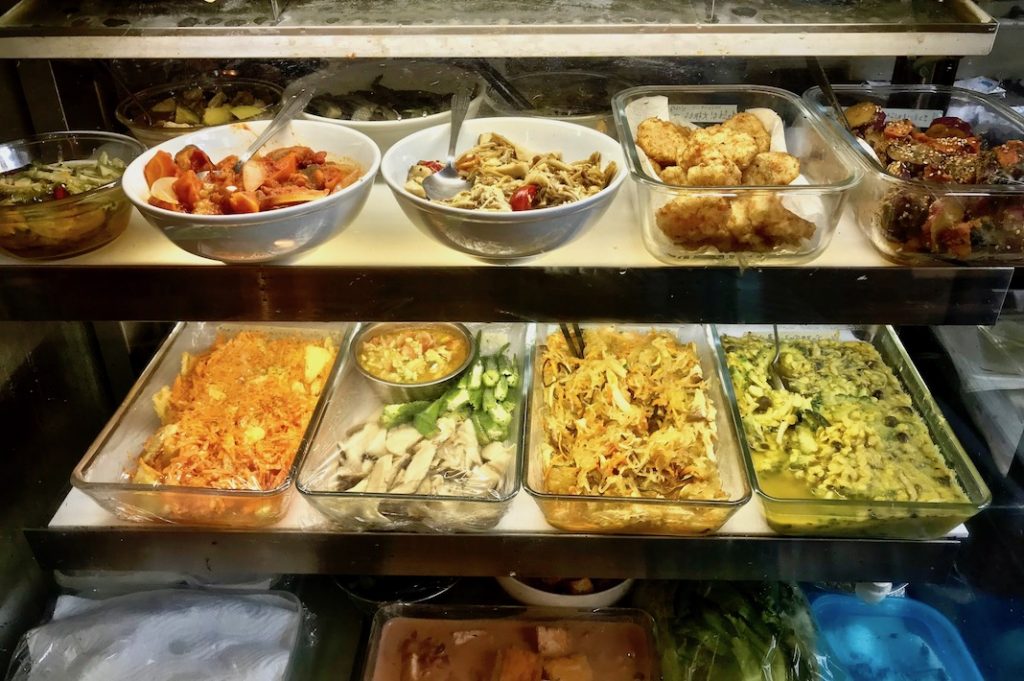 Vegetable side dishes here vary from week to week. They're typically colorful and vibrantly flavored, showcasing the best of whatever is in season. Think pumpkin salad, house-made pickles, vegan kimchi, green papaya salad, coconut milk curry chock-full of tofu and vegetables, mushroom and pepper stir-fry. They're incredibly inventive with edible plants here!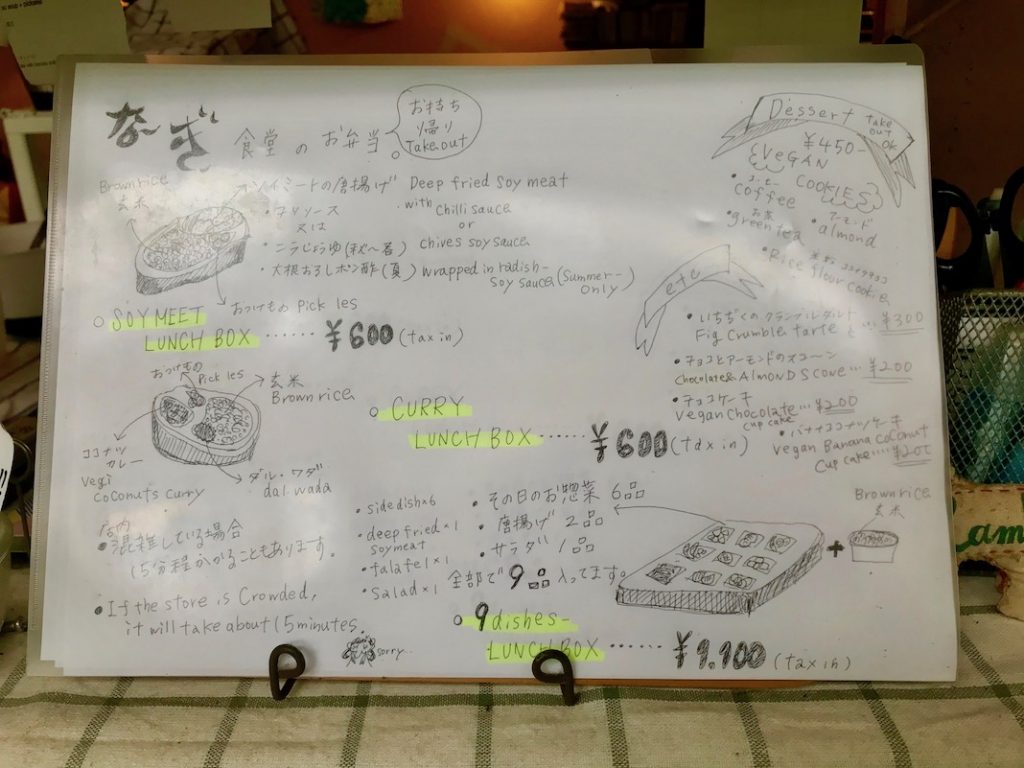 Prices at Nagi Shokudo are pretty reasonable too. The average set lunch goes for just JPY1000 to JPY1200—fantastic value for the Shibuya area—and if you want a drink, it'll cost you an extra JPY100. A slice of cake goes for JPY550. But if you're looking for the most frugal option possible, opt for one of the take-out bento boxes for just JPY600.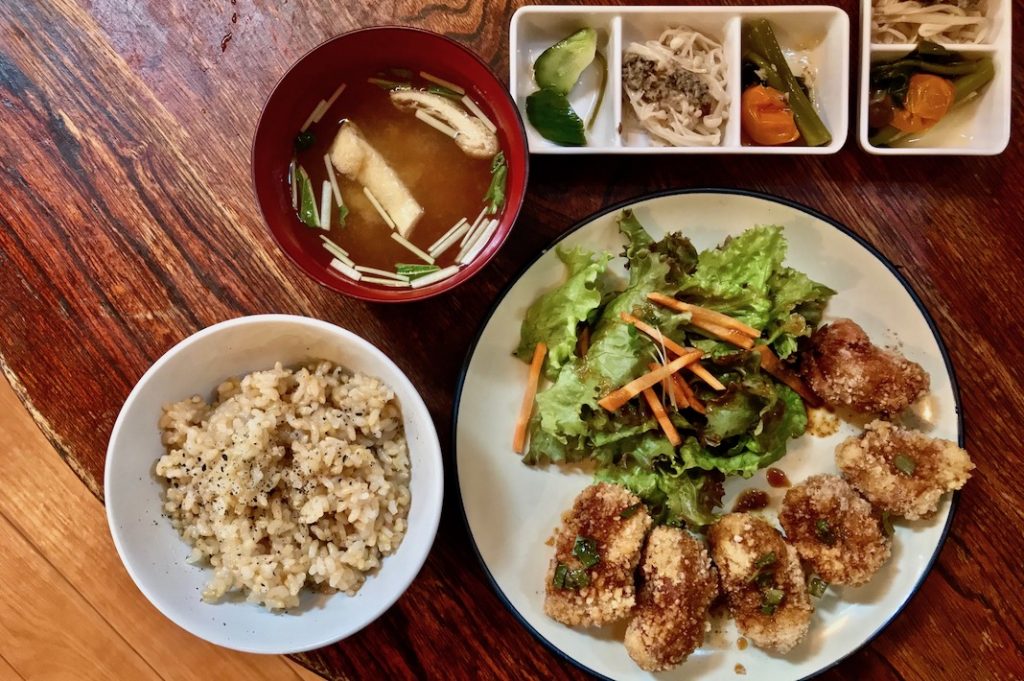 What to eat here
There are a few options for set lunches. The standard choice is the "Nagi Lunch Plate" at JPY1200, where you choose three side dishes from the deli counter. These will be served with the usual brown rice, miso soup, and pickles. Dishes change daily. Think tasty treats like dhal, falafel and mayonnaise sauce, ratatouille, soy sauce avocado and tofu, and more.
You could also go for the Nagi curry plate, which gives you a South Indian-style vegetable curry and the usual accompaniments. Or, you could try the Nagi B Plate. This soup set sees a chilled soup in summer, and a warming sake lees soup in winter. It makes a hearty meal with a few side dishes from the deli counter thrown in.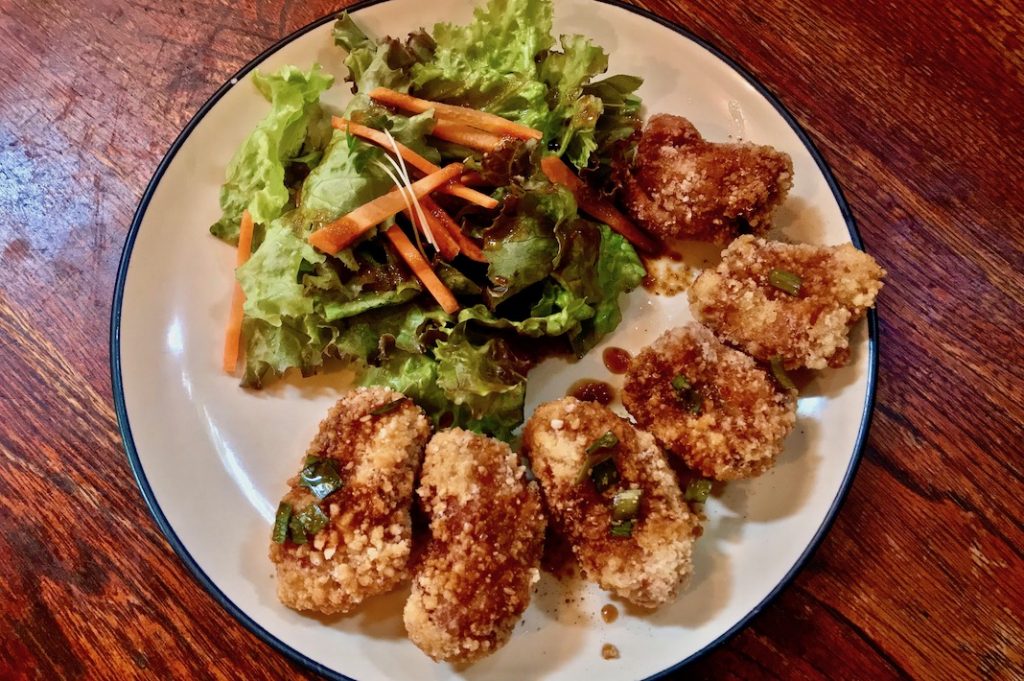 Call it force of habit, but I tend to gravitate towards the A set lunch every time I'm at Nagi Shokudo. As they say, if it ain't broke, don't fix it. The A plate consists of deep-fried soy meat karaage and salad, with the usual brown rice and miso soup alongside. It's savory and hearty enough that you won't miss the meat. They vary the dressing, but I love this best when it's drizzled with a salty chive soy sauce.
For those with a sweet tooth, the hardest part about going vegan is missing out on dessert, since most Western-style desserts contain dairy. Luckily, you can have your vegan cake and eat it here. Both the banana caramel cake and chocolate gateau are very decent vegan adaptations—while they're not quite the real deal, they're just right for satisfying that sugar craving.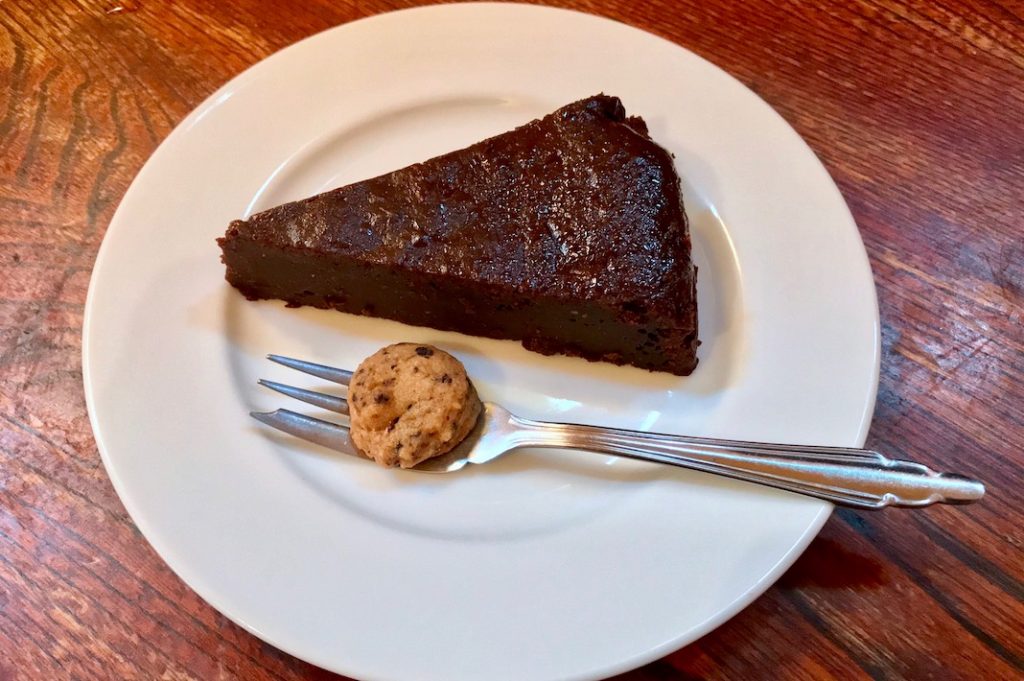 How to get here
Nagi Shokudo is a short 7-minute walk from the New South Exit of Shibuya Station. The basement-level entrance is obscured by some bushes. Just follow the sign and head down the staircase—you'll see it immediately.
Note: Nagi Shokudo is great for both solo meals and catchups with friends over good food. The cozy, relaxed environment probably isn't well-suited to larger, noisier groups. But for vegan food in Shibuya, it's about as good as you'll get.
Name: Nagi Shokudo
Address: 15-10 Uguisudanicho, Shibuya City, Tokyo 150-0032
Open: 12:00–15:00 and 18:00–22:00 (closed for dinner on Sundays)
Twitter: https://twitter.com/nagishokudo
Post by Japan Journeys.